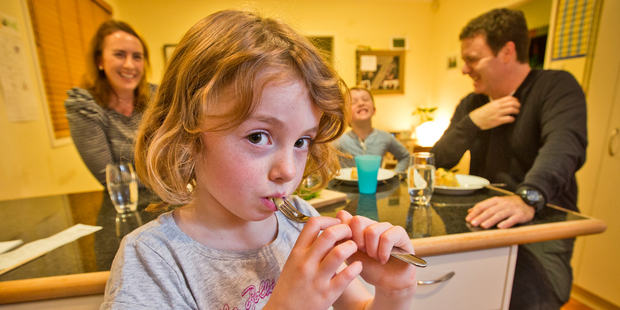 The Tattersfields spent less on one meal for their whole family than the price of one McDonald's Happy Meal by following a plan that promises to feed four people for five days for less than $50.
New Zealand Guild of Food Writers member Vicki Ravlich-Horan contacted the Herald after coverage about the price of opting for meals prescribed in the 5+ A Day guidelines.
An informal Herald survey found that a five-day meal plan for a family of four, including 5+ A Day, was $32.61 cheaper than an unhealthy, fast food-filled alternative.
She said it could be even cheaper, with five days of healthy, tasty and filling meals and snacks for four people costing no more than $50.
The Tattersfield family of Westmere - Karyn, Simon and children Ruby, 7, and Daniel, 5 - put it to the test, and found they could make a substantial dinner for less than $5.
The night the Herald visited they were enjoying baked potatoes with leeks, bacon and cheese.
"I didn't think it would be enough to fill up the family but we had it and didn't have anything else later on - it was satisfying and we all loved it," said Mrs Tattersfield.
"Simon was threatening to pop down to the roast shop afterwards because he likes a bit of meat but it [was] so filling he ended up not having to do that."
Usually she would spend $20 to $30 on a dinner for the family, she said.
"I was brought up on the meat-and-three-veg meal ... I break away from that reasonably often but I tend to always fall back on that as the style.
"It's always nice to save a bit of money and I have been thinking for a while that it doesn't make sense to make dinner a very big meal because you just go to sleep." Mrs Tattersfield said she even felt the menu was quite luxurious - offering dishes such as pancakes and muffins for breakfast.
Mrs Ravlich-Horan said she hoped the meal plan would change people's perceptions.
"I have always been a big proponent of the idea that we spend more money on food than we need to. So many people don't plan it and you end up going shopping more and buying too much and throwing that stuff out."
She said soups using seasonal vegetables were the way to go, and for an extra $10 the menu could easily include more fruit and vegetables, especially if they came from a greengrocer rather than a supermarket.
United Fresh New Zealand general manager Paula Dudley said the company's 5+ A Day campaign had been pushing the message to buy in season to break misconceptions about the price of fruit and vegetables.