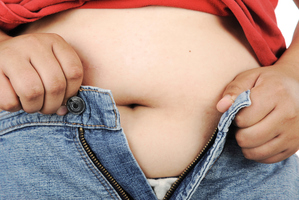 Children born by caesarean section appear to be at greater risk of obesity, new research shows.
Excess weight gain among these children when they are very young appears to put them at elevated risk of obesity, which means they can go on to develop type 2 diabetes, heart disease and some cancers.
Caesarean babies are born with fewer bacteria than children delivered normally because the infant gut gathers the tiny organisms as the baby travels through the birth canal.
In New Zealand, 23 per cent of births in 2010 - the most recent figures - were by caesarean section.
Auckland District Health Board figures are higher - a third of the 7695 infants delivered in 2012.
Obesity expert Professor Matthew Gillman of the Harvard Medical School - one of the top medical research centres in the US - says a public health goal should be to reduce the number of elective caesareans.
Dr Gillman's speciality is preventing the onset of childhood obesity, which once it develops "tenaciously resists treatment".
His work with US colleagues found the risk of children delivered by caesarean section becoming obese was double that of a normal birth.
"We don't want to do away with all caesareans, we would like to reduce the rate of unnecessary caesareans."
Dr Gillman, from Boston, was in Auckland this week with other leading researchers in developmental origins of health and disease for a summit to plan the work programme at Gravida, one of New Zealand's Centres of Research Excellence.
The taxpayer-funded institution is drawing up a research strategy to combat obesity, one of the country's most pressing public health challenges and increasingly a political issue with the Government under pressure to move into contentious territory such as sugar taxes and curbs on junk food advertising.
This week the New Zealand Medical Association entered the fray, saying existing approaches to obesity had been piecemeal and failed to halt its steady rise.
Dr Gillman said there was no silver bullet for obesity, but science was identifying risk factors and showing where interventions could start to turn the tide on a global epidemic.
Here the impact is being especially felt in the explosion of the number of people with diabetes, which adds $1 billion a year to health costs.