A mid-length skirt and a soft blouse are a match made in heaven.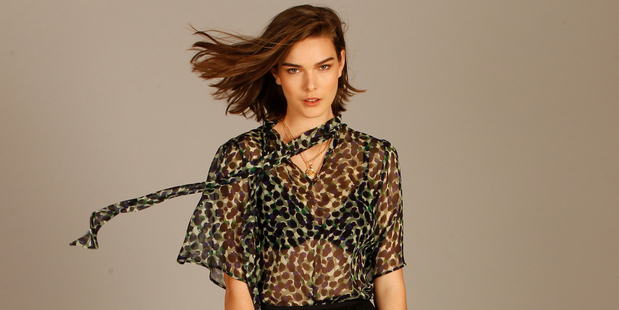 The delicate lines of a soft blouse and a mid-length skirt are a failsafe power pairing across the seasons.
Mid-length skirts first appeared when they were raised from the draconian ankle-grazing lengths of the Victorian era to the just-below-the-knee lengths of the roaring 20s as the global economy was booming, only to inch their way further down past the knee as the Depression hit.
The 60s saw skirt lengths shoot up to mini lengths then briefly return to mid-length in the late 70s with A-line styles for the working woman, epitomised by labels such as Anne Klein and Chloe.
While the relation of skirt lengths to the economy might seem dubious today, with the "anything goes" approach to shapes and styles in the market, a soft mid-length skirt with a whiff of 70s romanticism continues to stand the test of time.
Several light and languid mid-length skirts and blouses are on offer this season, with keyhole and pussy-bow blouse styles making a particular impact.
For designer Helen Cherry, the beauty of a silk blouse is its ability to work well with both tailored and casual bottoms.
"There is a classic silk blouse in every Helen Cherry collection. As a versatile wardrobe staple, it brings softness to a tailored trouser or skirt and adds glamour to a more casual outfit," Cherry explains. "For winter the Laurent blouse is my current favourite. The combination of the feminine ruffles and slightly sheer silk create a subtle sexiness."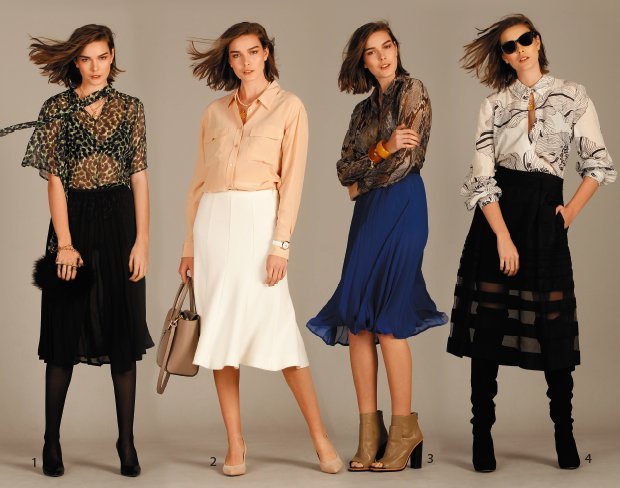 1. Helen Cherry silk blouse, $398. Vaughan Geeson skirt, $196. Fob chain, $1299, from Stewart Dawsons. Coin pendant, $2199, from Pascoes. BCBGMaxAzria feather clutch, $169, from Glamour Boutique.
2. Equipment silk shirt, $395, from Muse. Gregory skirt, $259. Tissot watch, $595, from Stewart Dawsons. Coach handbag, $800, from DFS Galleria. Akoya pearl necklace, $380, from Walker & Hall. Coin pendant, $2199, from Pascoes. Mi Piaci slingback heels, $220.
3. L'agencie silk blouse, $495, from Muse. Vaughan Geeson skirt, $196. Topshop heels, $245, from The Department Store. Seiko watch, $525, from Pascoes. Resin bangles, $5 each, from Buana Satu.
4. Karen Walker blouse, $290. Tibi skirt, $290, from Muse. Witchery thigh-high boots, $479.90. Le Specs sunglasses, $70. Fob chain, $1299, from Stewart Dawsons. Coin pendant, $2199, from Pascoes.
Stockists
• Buana Satu (09) 358 5561
• DFS Galleria (09) 308 0700
• Glamour Boutique
• Gregory (09) 378 8645
• Helen Cherry (09) 303 3735
• Karen Walker
• Le Specs
• Mi Piaci
• Muse (09) 520 2911
• Pascoes
• Stewart Dawsons
• The Department Store (09) 489 4202
• Vaughan Geeson
• Walker & Hall
• Witchery (09) 523 1335
Stylist: Dan Ahwa
Photographer: Chris Gorman
Hair and makeup: Stacy Lee Ghin using Koa Cosmetics
Model: Izzy Jarrett from 62 Models
Stylist's assistant: Zuzana Edwards