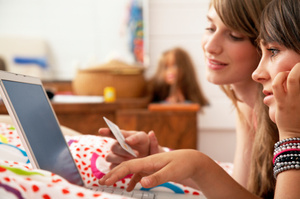 New Zealand youngsters struggle to stay active in their teen years despite being more sporty than children in many other parts of the world, new research shows.
The physical activity levels of children in 15 countries, including New Zealand, have been assessed in a global Physical Activity Report Card, released today.
According to the results, which grades kids aged 5 to 19 on a range of lifestyle indicators - including how much "screen time" they have and whether they play organised sport, New Zealanders are top-equal with Mozambique when it comes to minutes spent each day in "moderate to vigorous" physical activity.
The results showed about two-thirds of Kiwi children met physical activity guidelines, by doing at least 60 minutes of moderate to vigorous physical activity each day - however a breakdown showed the numbers varied significantly with age.
While kids aged 5 to 9 scored an A, meaning nearly all children met physical activity guidelines, this dropped to 78 per cent for those aged 10 to 14. For teens aged 15 to 19, only 32 per cent were found to meet the guideline.
Associate Professor Dr Ralph Maddison, who led the University of Auckland research team for the report card - the first for New Zealand - said the results reflected a global trend.
"This decline in age is something we see internationally. One of the things that we see as you get older is that there's a decrease in spontaneous physical activity," he said.
Dr Maddison, from the university's National Institute for Health Innovation, said addressing declining activity levels among adolescents was about changing lifestyle habits.
Other results from the report card showed only 30 per cent of teens aged 15 to 19 met the recommended screen-time guideline of two hours or less each day. In the 5-9 age bracket, 60 per cent of children met the guideline.
"This also mirrors that decline in physical activity," Dr Maddison said.
A lack of opportunities for physical activity in everyday life, such as walking routes or cycling pathways, could also be contributing to the age-related decline.
"Rather than walking or cycling and using some of the active forms of transport to move around, these age groups are using more motorised forms of transport," Dr Maddison said.
"Although we like it [New Zealand] to be a very active country and we consider it to be so, we are very car-dependent."
Scores on the New Zealand physical activity report card were compiled from a range of health surveys undertaken over the past eight years.
Dr Maddison expected New Zealand's second report card to be compiled in another two to three years.
The Prime Minister's chief science adviser, Sir Peter Gluckman, said the results were unsurprising.
"We all know that maintaining physical activity is a behaviour learnt early in life, if it's to be sustained, and it is important in terms of health."
Sir Peter, who was yesterday announced as the head of a newly established World Health Organisation commission to end childhood obesity, said addressing the dramatic social changes which contributed to the decline would be difficult.
New Zealand physical activity report card, young people aged 5 - 19:
* About 66 per cent participated in at least 60 minutes of moderate to intense physical activity most days
* About 60 per cent played organised sport
* On average, 43 minutes is spent in active transport, such as walking or cycling, everyday
* 65 per cent of secondary school students had attended PE class in the seven days prior to being questioned
* 53 per cent of secondary school students said they had meaningful engagement in school sports
* 15 per cent of secondary school students said they did not participate in organised sport outside of school due to a lack of sports facilities in their local area
* 14 per cent said it cost too much
Source: The New Zealand physical activity report card for children and youth
- APNZ