Sharp tailoring, mixed with boyish insouciance, maketh the man.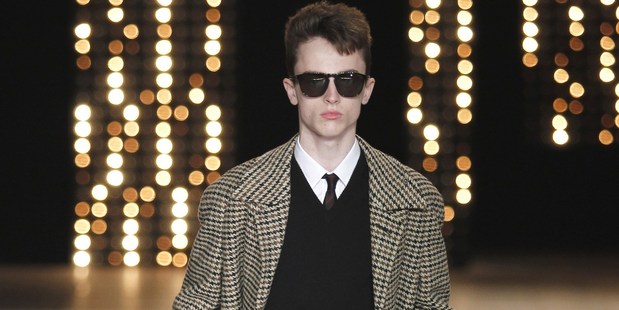 Youth subculture has always been at the heart of Hedi Slimane's design. During his tenure as creative director at Dior Homme (2000-2007), he pushed for a slimmer silhouette in menswear (stovepipe jeans are still popular today). In his current position as the creative director for newly re-branded Saint Laurent Paris, his love of grunge, punks and rockabilly delinquents has been explored with passion.
Slimane's coterie of teddy boys for Saint Laurent's winter 2014 collection may have looked like familiar territory from his Dior days, however that youthful spirit has been distilled into a more polished vision with sharply tailored outerwear and classic separates favoured by rebels of yesteryear. This includes the black skivvies worn by defiant beatniks in the 1960s to the oversized pleated pants worn by Zoot suit advocates of the 1940s. Even James Dean's iconic red Baracuta jacket from Rebel Without A Cause has stood the test of time, a piece of clothing that represented the post-war teenage angst that reached its peak upon the film's release in 1955.
Raf Simons' own well-documented obsession with youth culture has also been captured in his eponymous menswear line over the years, most notably through his interpretation of the classic bomber jacket.
From its humble roots, the jacket has over the years represented the rebellion of wider subcultures from scooter boys to rude boys. Updated variations on the bomber jacket can be found at Stolen Girlfriends Club and Zambesi, along with high street options at Bing Harris & Co and online retailers such as Opening Ceremony and Topman.
For authentic menswear fashion inspired predominantly by the 40s and 50s, you can't look past the popular selection from local retailer Strangely Normal. It's the perfect place to look for less conservative pieces for men who prefer to move to the beat of their own drums.
The tailored looks we love: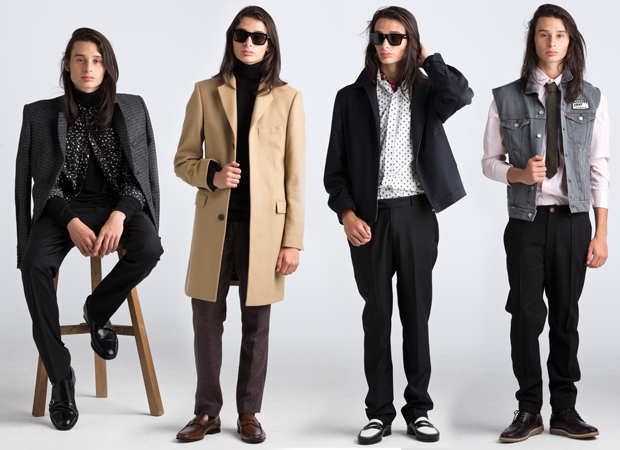 1. Topman skivvy, $55, and wool blazer, $325, from The Men's Department at The Department Store. Gus shirt, $249. Zambesi trousers, $660. Working Style monk strap shoes, $599. Citta stool, $269.
2. Topman skivvy, $55, and trousers, $125, from The Men's Department at The Department Store. Working Style coat, $1290 and loafers, $549. Le Specs sunglasses, $70.
3. Strangely Normal jacket, $475, and shirt, $195. Silk cravat, $95 and loafers, $345, from Strangely Normal. Zambesi trousers, $660. Le Specs sunglasses, $70.
4. Strangely Normal shirt, $195. Gus leather tie, $139. Levi's vest, $169.90. I Love Ugly trousers, $149. Witchery brogues, $199.90.
Stockists
• Citta
• The Department Store
• Gus (09) 360 2362
• I Love Ugly
• Le Specs 0508 EYEWEAR
• Strangely Normal (09) 309 0600
• Witchery (09) 523 1335
• Working Style
• Zambesi
Stylist: Dan Ahwa
Photographer: Greg Bowker
Grooming: Katie Melody-Rogers using M.A.C Cosmetics
Model: Jay Lichter from Clyne
Stylist's assistant: Zuzanna Edwards
Follow Life & Style on Twitter and Facebook.