You've heard of craft beer but craft soda is the drink everyone with a conscience is sipping these days, writes Rebecca Barry Hill.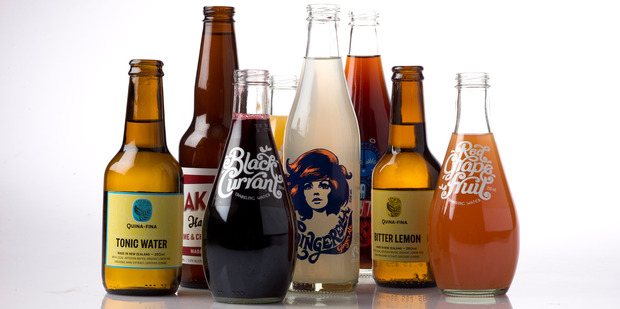 Pop quiz: which soft drink was once plugged as "a most wonderful invigorator of the sexual organs"? The answer is John Pemberton's 1885 invention, French Wine Coca, which apparently warmed more than just the cockles. Now known as Coca-Cola, the famous fizz has done away with the alcohol and cocaine, and is so ubiquitous you'd have no trouble recognising its logo even if it was written in hieroglyphics.
The world consumes about 1.7 billion cola drinks a day and although Coke isn't about to give up its gig as the world's most popular soda, a handful of enterprising young Kiwi companies are giving it a crack. In 2000 there were 67 local manufacturers of soft drink, cordial or syrup in New Zealand. By 2013, that figure had risen to 100, which suggests we're starting to catch up with the diversity of international offerings.
The swag of new locally produced sodas don't promise to stimulate anything further south of your taste buds. But they're redefining what it means to have a soft drink.
Buying a fair trade brand may just make you a better person! Downing a no-added-sugar variety could be better for your insides! Choosing a local variety means you're sticking it to the man! Or maybe you've just been lumped as the sober driver and you want something more exciting than cranberry juice.
Blame the rise of craft beers, the glut of television cooking shows, the drive to know what's in food and where it comes from. All of it has resulted in a product we shall now refer to as craft soda. So what is it exactly?
"The term 'craft' is a funny one because it's overused these days," says Six Barrel Soda Co's Joseph Slater, 32, who co-owns his Wellington syrups company with his intermediate school buddy, Mike Stewart. "It has connotations of a traditional skill that has been lost. I'm not entirely sure that's appropriate for soda but it does imply independence and quality."
Okay, so maybe a better description is a non-alcoholic younger sister of craft beer, which is traditionally made by small, indie, traditional brewers. Likewise, for craft soda, provenance, and story, is just as important as taste. For Pete's Natural Lemonade of Nelson, it's the countless bad batches that Pete Blommaert's wife, Marleen, had to try before he got it right. For Rebekah Hay of Hakanoa Handmade in Grey Lynn, it's the raft of shattered bottles that exploded in the fermentation process. For All Good Organics, also of Grey Lynn, it's the time they flew to Freetown, drove for two days, then walked through the jungle to a tiny village in Sierra Leone, home of the cola nut they wanted to trade, as villagers dressed as the devil did a welcome dance.
You may even say craft soda is a byproduct of the hipster generation: those creative young artisans who can't do without their smartphones but who love vintage baby names, going to the barber and working out how to do things the old-fashioned way. The Six Barrel Soda Co, for instance, has created its innovative range of syrups such as celery tonic (a drink popular in the 50s), cherry and pomegranate and hibiscus, designed to be combined with sparkling water (or something stronger). Using fair trade cane sugar, carbonated water and spices, they're not disingenuous enough to call themselves a health product but there's something cheering about the hand-stamped amber bottles they're packaged in. They hark back to the American soda fountain culture of the late 1880s, when sweet, carbonated drinks were a way of taking medicine, often quinine or iron - and later, cocaine, alcohol and morphine.
Slater and Stewart's idea to create their own (drug-free) syrups came to them when they were behind the bar at their former Wellington establishment, Monterey. Realising non-drinking customers had little to choose from, they set about experimenting with their soda-stream machine and non-alcoholic cocktail ingredients, combining them to make flavoured sodas.
"People really got into them," says Slater.
Now they sell their range of syrups from their own cafe, employ a staff of six and sell their wares in 120 stockists around the country, as well as online. Expansion has happened quicker than expected, and the company is now focused on exporting to Australia and Singapore.
Naturally, the rise of conscious consumerism makes it harder to decide which soda to buy. Do you go organic? For locally sourced ingredients? Fair trade? Most local craft sodas are keen to distance themselves from synthetic sweeteners such as phenylalanine, but several brands, such as Hakanoa Handmade, Quina-Fina and Hopt, pride themselves on their low-sugar content. Ziwi Organic makes sparkling apple juice with no added sugar. Pete's Natural Lemonade uses lemons from Nelson, and is one of the few sodas made from freshly squeezed fruit juice, rather than concentrate.
If you're more about global ethics then All Good Organics, recently named one of the world's most ethical companies by New York-based think-tank, the Ethisphere Institute, is leading the charge. The company started out importing fair trade bananas from Ecuador four years ago and recently moved into sodas. Their quirky range of Gingerella, Lemmy Lemonade and Karma Cola has been selling here and Australia for a year, and they recently introduced a new range of treat-sized sodas for grown-ups, with flavours such as red grapefruit and bitter lemon.
"We want to make transparent supply chains to show people that purchasing a fizzy drink can have some benefit other than refreshment," says All Good Organics' Simon Coley, the former marketing director for 42 Below.
Co-founders (and brothers) Chris and Matt Morrison set up Phoenix Organics, the soft drink company that got so big, eventually selling to Charlie's, you could no longer call it craft. But the guys who work out of a big yellow shed are all about creating an ethical business using fair trade, organic ingredients. They've spent years building relationships with growers, rehabilitating old crops and helping to transform villages as far flung as Sierra Leone, Sri Lanka and Paraguay.
As well as purchasing the cola nut from growers in the West African village of Boma, 2c a bottle goes back to the growers. Already the funds have gone towards improved drainage and a new bridge.
"It's so humbling to see what's going on there," says Coley. "That's a really big pull for us to do more."
Likewise, Alex Gledhill, a 25-year-old entrepreneur who started Quina-Fina (pronounced "keena-feena") in 2009, is hopeful his local tonic water will do more than offer gin drinkers an alternative mixer. He got the idea to make his own while working at Glengarry's in Wellington, noticing that customers were prepared to spend big bucks on their favourite gins, but were walking out with cheap, two-litre bottles of tonic.
More importantly, he was amazed that the history of the good old G&T was relatively unknown. So he made a series of visits to the Province of Loja in Ecuador, the birthplace of tonic's bitter ingredient, quinine, to find out more.
Quinine is an anti-malarial alkaloid from the bark of the cinchona tree, indigenous to Loja. In 1825, British officers in India began to mix gin with their daily ration of quinine tonic. After years as a sought-after commodity, Loja has lost much of its wild cinchona, and its ownership, as seedlings were sent to plantations as far away as Africa, Indonesia and India, something Gledhill has set out to redress with his repopulation programme.
The hope is to take his "craft" product, which includes an extra bitter tonic and a bitter lemon variety, mainstream.
"Mass production of crappy goods is awful. But mass production of ethically produced goods going to a wide audience - I think that's a good thing."
Rebekah Hay of Hakanoa Handmade says that's more likely now there's less of the tall poppy syndrome that once stymied entrepreneurs. She started her ginger beer brand after spending nine years in Britain, where she worked in film and TV special effects. A dedicated "weekend foodie", she arrived home to find jobs scarce, so set out to do something else. Noticing the dearth of alternatives to standard fizzy and energy drinks available at bars, she decided to produce a chemical-free, fermented ginger beer range of her own. A dry (and very gingery) product with less than 2 tsp of sugar a bottle, and another with chilli and lime, were the first winners. She's since developed ginger and spicy chai syrups to see the company through winter. Now, with marketing man Roger King on board, Hakanoa Handmade brews 3000 bottles a batch, and distributes at 130 outlets in New Zealand.
"I think there's a lot of post-recession backlash against big corporations," she says.
"People are more suspicious about mass-produced products. Consumers are feeling a lot more loyal to local businesses. I get a lot of 'good on you' feedback at markets."
Now it's up to consumers whether they're prepared to try a cola, ginger beer or lemonade that might taste a little different to the one they grew up with.
Follow Life & Style on Twitter and Facebook.