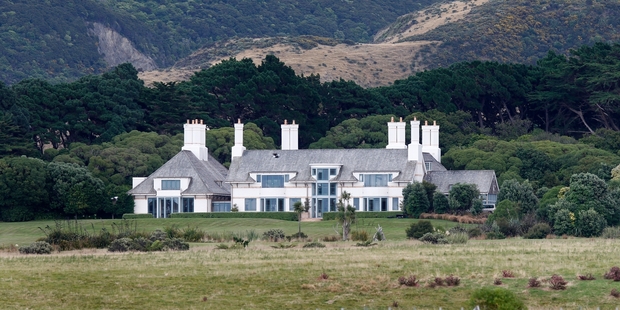 The royal couple are understood to have spent a luxurious day off at one of Wairarapa's most exclusive lodges.
The Duke and Duchess, Prince George and his nanny, Maria Teresa Turrion Borrallo, are thought to have spent yesterday at the award-winning Wharekauhau Lodge.
Their return to the capital today for Prince George's Plunket date however won't coincide with an improvement in the weather, with another rainy day forecast.
Overlooking a lake and surrounded by a stunning backdrop in Palliser Bay, the lodge's main building was built to reflect an Edwardian country mansion.
Many people have stayed quiet about the royal family's secret getaway location, including Prime Minister John Key who is due to host a private dinner for the Duke and Duchess on Monday.
If you're out spotting the royals, we'd love your snaps. Share them with us, including details of where you took the photo, here.
However, there was no going past the high number of police officers and royal officials seen around the lodge yesterday.
Mary Tipoki, owner of the Lake Ferry Hotel - on the other side of the lake - said the place had definitely been buzzing.
"We haven't seen them on this side, but people on the western side of the lake said if you want to go there, you won't be able to. There's certainly a lot of security there."
Mrs Tipoki said many locals were thrilled that they had royal visitors in the area.
"Wharekauhau is ... a beautiful place to be. I can't think of anywhere as lovely as that to rest up at. I just think it's nice that we have some distinguished neighbours for the night."
Lodge manager Richard Rooney yesterday tried to divert attention from his famous guests, initially denying they were staying there.
The privately owned lodge has won numerous awards over the years.
Meanwhile the royal couple can expect another wet and windy day during their return to the capital.
Meteorologist Dan Corbett says it's going to be a "yucky" day.
"It's almost like mother nature said, 'oh you're coming to visit New Zealand and you're from Britain, this is typical spring weather in Britain','' he said.
The city would struggle to reach a high of 16C degrees today, with a keen southerly and spells of rain continuing throughout the day.
Heavy, persistent rain overnight had seen Kelburn record 83mm of rain in the last 24 hours, with 54mm at Wellington Airport, and more than 100mm over the ranges to the east of the city, Mr Corbett said.
Earlier weather warnings, which covered the Rimutaka Ranges and Wairarapa are due to expire at midday.
Follow Life & Style on Twitter and Facebook.
- Additional reporting APNZ