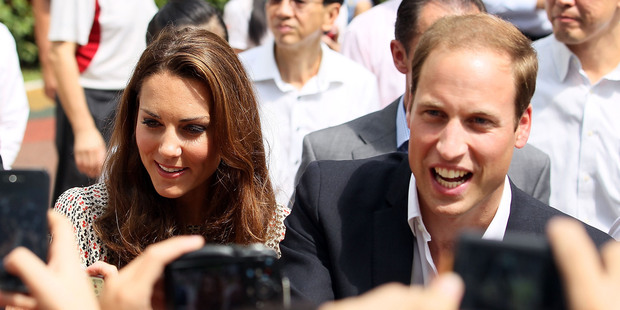 Claims in the British media that topless Maori female performers have been asked to cover up during the royal tour and the Duke and Duchess of Cambridge will be served protected kereru have been rubbished by New Zealand officials.
The statements were reported in some British newspapers, which quoted "New Zealand-born leader of the haka" Tredegar Hall.
Associate Maori Affairs Minister Chris Finlayson - who slammed the claims as "an infantile prank" - believes the papers have been led astray by Mr Hall, whose LinkedIn profile says he worked for NZ Immigration in London.
British newspaper the Telegraph quoted Mr Hall, a member of the London-based Maori club Ngati Ranana, as saying topless female Maori dancers would cover up when they greeted the couple.
Male dancers wearing grass skirts had also been instructed to add underwear during welcomes.
Read more of the Herald's Royal Tour coverage:
• Royal visit: Live updates
• Royal tour's foggy start
• Editorial: Young royals get chance to impress Kiwis
"For important occasions like this the women go topless; it's tradition. But because this is a big occasion they'll cover up out of respect so they don't embarrass Kate and William," Mr Hall told the paper. "Usually the men do not wear anything under the piupiu, the flax skirts, but because of the high-profile guests, they'll wear black undies to welcome them."
He told the Express newspaper the couple would also be offered traditional food including the endangered kereru, or native woodpigeon, cooked in a hangi.
Prince William is a committed conservationist who has campaigned to save endangered species such as the rhino. "The kereru is an endangered species. They will have to warn William if he's having that," Mr Hall told the paper.
Allen Walley, spokesman for Internal Affairs' Royal Visit Office, said no advice had been given to Maori iwi involved in the tour about what groups would wear. He expected the women would be wearing tops and men would be wearing underwear.
Mr Finlayson said the papers appeared to have been hoaxed by Mr Hall. "It is an infantile prank at a time when Maori culture and New Zealand will be in the spotlight overseas."
A Ngai Tahu spokesman declined to comment but a Defence Force spokeswoman said its kapa haka group "never perform topless".
Kapa haka expert Trevor Maxwell said he believed there had never been a time when it was traditional for women to perform topless.
"He's talking a lot of rubbish that is not the case at all - that is totally incorrect. [Performances are] done with decency and taste."
Mr Maxwell also did not know why Mr Hall said kereru would be on the royal menu. There was a law prohibiting killing and eating of the bird, he said. "I'm sure the royals would be briefed on that - I can't see that being the case at all."
Mr Walley also rubbished the kereru claim.
Mr Hall could not be contacted last night.
Follow Life & Style on Twitter and Facebook.
- APNZ