William and Catherine help to revitalise the monarchy.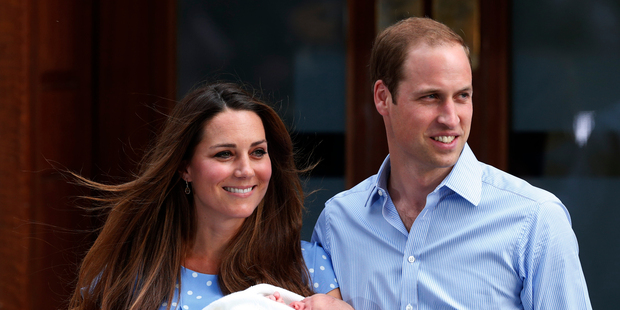 It seems a generation since New Zealand welcomed a royal family, and it is. The arrival of the Duke and Duchess of Cambridge and the baby Prince George today is the first of its kind since Prince William was here as a baby with his parents.
William, who had just begun to crawl, made his memorable lunge for a Buzzy Bee on the lawn of Government House, Auckland. Wisely, no repeat performance has been set up for George. Let him make his own moments.
His mother may command most attention over the next 10 days. This is Catherine's first visit, just as it was Diana's first, and sadly only, visit in 1983. Comparisons are inevitable at the outset but Catherine will make her own impression. By the end of the tour, New Zealand will have seen a good deal of her and she will have seen a good deal of New Zealand.
William, of course, is already a familiar presence in this country. His visits soon after the worst Christchurch earthquakes and the Pike River mine disaster were deeply appreciated, and his engaging manner was refreshingly free of the stiff formality of forebears.
This time other parts of New Zealand will see as much of him as Canterbury has.
With a baby to consider, this royal visit will be based in Wellington and the tour will take the form of mostly day trips to other centres. From the time they land at Wellington Airport this morning, they have a light schedule of events in the capital and plenty of free time to acclimatise, until Thursday, when they visit Blenheim.
Auckland receives them for a few hours on Friday when a lunch-hour walk at the Viaduct is in prospect. It is Hamilton's turn on Saturday. They are in South Island centres on Sunday and Monday, then Wellington again on Tuesday and Wednesday, their final day in the country.
Before their state reception at Government House, Wellington, on Thursday night, Prince William will have meetings of strictly equal length with the Leader of the Opposition and the Prime Minister. It is unusual to host a royal tour within six months of an election that John Key has set for September 20. He will need to be careful about appearing in William and Catherine's vicinity.
Equally, David Cunliffe ought to be careful not to criticise any appearances unduly. The public can assess these things and there is no political gain for anyone who appears to exploit the visit for his own purpose.
The New Zealand Republican Movement has welcomed the tour as an opportunity for public debate on the future of the monarchy. That is a more respectable response than noise and placards on the fringe of a crowd and deserves a debate. The monarchy survived for centuries in the United Kingdom on its constitutional role, almost regardless of the personality and performance of the monarch. It realised long ago that it can no longer count on its constitutional role alone.
The 60-year reign of Elizabeth II has been sustained by the appeal of a royal family as well as the impeccable performance of the Queen. The family image suffered when Prince Charles allowed the failure of his first marriage to become a sorry public exchange, followed by the death of Diana, and many adopted the idea that the monarchy would last only as long as the Queen.
Thanks to William and Catherine, that idea is fading. Like Diana, they are making the monarchy less stuffy, more contemporary, and even Prince Charles appears to be more relaxed. With three generations of heirs to the throne, the monarchy looks settled for another century. It may live a long way from New Zealand but a family keeps the bond alive.