Heart attack takes woman, 88, separated from her sweetheart for 70 years until they were reunited and married.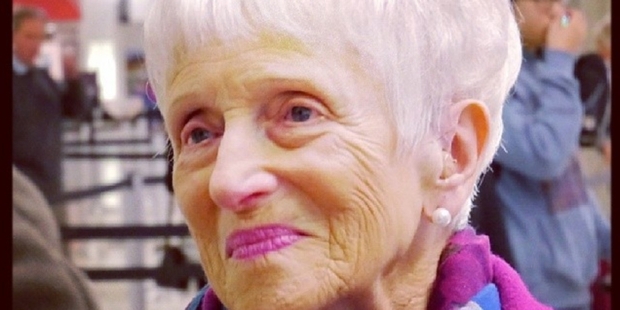 A Christchurch woman, who kindled the hearts of romantics worldwide after marrying her wartime sweetheart after 70 years of separation, has died.
Bernie Bluett, 88, moved from Britain to New Zealand during World War II after her disapproving parents failed to pass on love letters from Bob Humphries, now 90.
They met as children when Mr Humphries' family, from London, holidayed in Mrs Bluett's home town in North Devon.
The pair dated in their late teens but Bernie joined the Royal Air Force and Bob was enlisted in the army. The soldier wrote to his sweetheart - but unknown to either of them, Bernie's parents did not pass on the letters.
After two years of silence, Bernie married a Kiwi RAF pilot, Roy Bluett, who she had cared for as a military nurse. She and her husband then moved to Christchurch, where they had three children.
Bernie's husband died 12 years ago and Bob's wife, Beryl, died in 2012. The pair reunited after Bernie's daughter Robin put them in touch.
Bernie then moved back to Britain to marry her sweetheart last year at St John the Baptist Church in Pawlett, Somerset.
"Needless to say, he is a hopeless romantic and so am I," she said of their reunion.
Her son-in-law Paul Hudson said Bernie suffered a heart attack this month. Her funeral is set for Tuesday, UK time.
Her three children - Robin, who lives in Christchurch, Mark from Sydney, and Graham, from the UK - would all be at the funeral.
"Mark's been staying with her new husband Bob - they're both military people," Mr Hudson said.
Bernie had been living on borrowed time, he said.
"It wasn't that long ago that she'd been in Princess Margaret [Hospital in Christchurch].
"She told me that if she had six months of happiness with Bob that would be really good."
She ended up having 10."
Bernie had always longed to move back to Britain, Mr Hudson said.
"In the end I think we were all very happy that she was happy.
"She'd often said to us that she'd like her ashes scattered back in Appledore - I think that was her favourite place - where she grew up.
"I guess in a way she had a very happy end to her life. She would have turned 89 in April, Bob turned 90 a couple of weeks ago."
The funeral was expected to be held in Pawlett, at the same church she and Bob married in last year.
"It'll be Doris, the same minister that married them," Mr Hudson said.
Bernie's nephew Richard Moore Bluett said his aunt was "obviously smitten" with Bob.
"And if you can be doing that at 87, there's still hope for a lot of us I think."
- APNZ