To welcome the Spanish beer Estrella Damm to New Zealand, Life & Style asked three of our favourite famous foodies to pick their top tapas bars from around Auckland. We'll reveal their picks on Monday, Wednesday and Friday this week.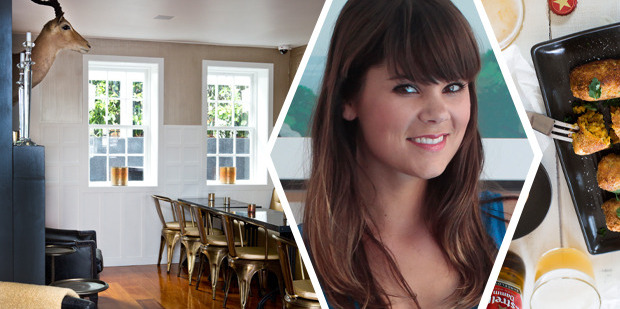 Amber Peebles: TV presenter, fashion and lifestyle blogger and social butterfly.
The first thing that will grab your attention here is the eclectic cocktail list, featuring ingredients like spiced mist, lavender syrup and Merlot and ginger reduction. The Kali Bubble Bath - a combo of coriander syrup, spiced mist coat, white rum, lime juice, champagne and a hibiscus flower, tastes as delicious as it looks. A lovely touch at 46 & York are the taste testers (although these may have been offered to us because we took so long to order, which, I might add often happens over a girly catch up and it can be rather rude when you are being rushed, but this was a very classy way of enticing our taste buds.) Now I've never meet a 46& York dish I didn't like but so we're not here all day, I have to recommend the very addictive three-cheese quesadilla with avo mash and smoked habanero salsa and the sticky oxtail and agria croquettes with parsley and garlic - they have won my heart.
Limon is truly an authentic looking spot and always popular with international visitors (based on my observations). The restaurant boasts a very pretty dinner setting with the late sun streaming across the water. This tapas menu, however, must come with this warning - when they say large plates, they mean really large. The menu admits they are bigger than your traditional tapas, but three large plates are more than enough for that many people. I chose from their delicious seafood selection, the chorizo and prawns always a winner for spice lovers, scallops wrapped in prosciutto is my favourite dish here and you can't go wrong with the succulent mussels. I must say they're all very rich foods, so my advice, opt for small and get a side salad to balance it all out.
Wynyard Quarter has become a dinning destination hotspot and being a long time Pescado fan it gives me great pleasure to see the place buzzing. Ambiance (aka people watching) like this really adds to a dining experience in my book. The waiters are thorough and polite, despite a full house they are tentative and the food is quick to arrive. I love the calamari and haloumi resting on a small green salad and the cigarillo filled with buffalo feta and fresh herb puree. If you've got room for some carbs, add the chunky agria potatoes to the mix. Pescado's collection of cute furniture creates cozy spots as well as more sociable areas and it's pretty easy on the purse strings too.
• Read more: Delaney Mes' favourite tapas
• Read more: Sweet Mix Kids' favourite tapas
For more about Estrella Damm and tapas visit their website here.