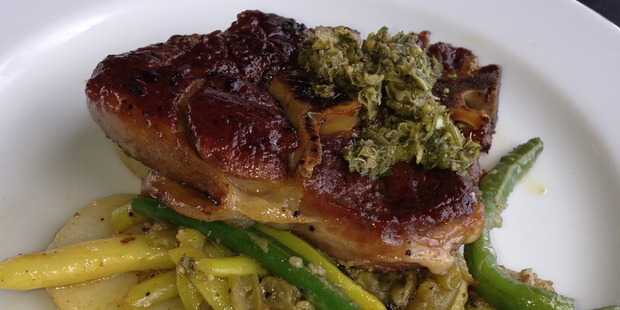 Serves 6
Local lamb and new potatoes and beans from the estate garden made this a special treat.
• 450g fresh French beans for the braise and a further 200g for blanching
• 4 tbsp extra-virgin olive oil
• 1.35kg lamb shoulder chops
• 50g chopped onion
• 2 garlic cloves, chopped finely
• Ground pepper
• 8 tbsp red wine vinegar
• Minted salsa verde


1. Snap the ends off the beans, rinse, drain and set aside.
2. In a cast-iron enamel pot, add olive oil and brown the (seasoned) lamb chops at a medium-high temperature. Brown meat in batches thoroughly on all sides before removing. Avoid overcrowding the pot.
3. When the lamb is finished, put the onion and garlic in the pot and cook until they are pale gold.
Add salt and pepper then the vinegar.
4. Bring the vinegar to a brisk simmer for about 30 seconds while using a wooden spoon to de-glaze.
5. Turn the heat down, add beans then place the meat on top, along with extra salt and pepper. Cover and cook in oven at 160C for about two and a half hours or until the meat is almost falling off the bone. Gently remove the chops to a tray to cool.
6. Sieve the beans, keeping the stock. Reduce the stock until it becomes almost sticky. Add red-wine vinegar for piquancy.
7. Chop stewed beans and mix with fresh, blanched butter beans and French beans.
8. Serve with buttery boiled new season potatoes and the fresh and chopped beans. Drizzle the chops with the reduced sauce and add a spoonful of minted salsa verde to the top of the lamb.
• Summer lamb is perfect with the deep flavour of Black Estate Pinot Noir 2011 or with Black Estate Chardonnay 2011.