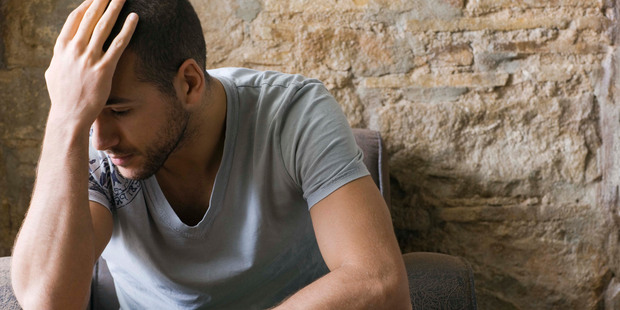 The border between sadness and depression isn't clearcut and mental health experts debate the distinctions.
"We all feel down from time to time, but symptoms of depression should be taken seriously if they last for more than two weeks," says depression.org.nz, a Government-backed website that aims to help people with depression.
Psychiatrist Professor Roger Mulder, the head of psychological medicine at Otago University in Christchurch, said there was an overlap in symptoms between sadness and depression.
"Some have been arguing, and I'm one of them, that we sometimes overdiagnose depression in sadness and this [sadness] is not necessarily a pathological condition; it's a response to life circumstances which has symptoms which overlap with symptoms of depression." A New Zealand survey found that 16 per cent of adults had had a depressive disorder at some point in their life - 11 per cent of men, and 20 per cent of women.
Professor Mulder said depression had "a reasonably powerful genetic basis", and there were a range of environmental factors, such as a disrupted childhood, abuse of any sort, high levels of deprivation, and high anxiety, that were associated with an increased risk of developing depression.
"What happens is you get in a cycle of things going wrong. You get abused, then you have poorer social relationships, you do more poorly at school, you take up alcohol and drugs which increases your chance of depression, so the whole thing is a developmental spiral."
The depression website lists a wide range of events that can trigger depression, including the death of someone close, being unemployed, bullying, childbirth; and lifestyle factors including heavy drinking, taking recreational drugs and social isolation.
Key signs of depression can be constantly feeling down or hopeless, or having little interest in doing things you normally enjoy. Possible signs can include irritability, loss of energy, loneliness, sleep troubles, low self-esteem, reduced sex drive and thinking about death a lot.
Professor Mulder said he tended to avoid recommending medication to patients unless they had quite severe symptoms, particularly the physiological symptoms of "melancholic depression", such as the slowing of motor functions, waking early, severe appetite and weight loss and the total absence of pleasure.
For mild depression, he recommended measures such as decreasing alcohol, getting more exercise, developing a good sleep routine, eating healthily and looking for things to enjoy - "pretty much what you would call common sense".
Self-help for mild depression
* Reduce alcohol consumption
* Get more exercise
* Eat healthily
* Go to bed at about the same time each night and get up at about the same time each morning
* Seek out the enjoyable
Key signs of depression
* Constant feeling of hopelessness
* Loss of pleasure in previously enjoyable activities
Contacts for help
* Depression Helpline 0800 111 757
* depression.org.nz - help website
* thelowdown.co.nz - youth depression help site
* Suicide Crisis Helpline 0508 828 865