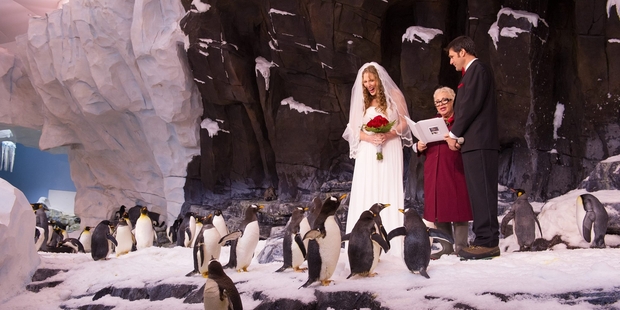 The bridal party included penguins dressed in their black and white "tuxedos", fit for a wedding that was not only white but very cool.
Jeff Rawson of Taranaki exchanged vows with his American bride Susanne Grieve on the ice, in the company of family and 250 penguins, at Seaworld Orlando, in Florida.
Clad in red gumboots, Ms Grieve braved the cold in a strapless traditional white dress, while the groom wore a tux and hiking boots.
The pair, who met while working in Antarctica in 2012, wanted to recreate the moment and the environment where it all started for them.
So they chose the nearest thing to the real thing at SeaWorld Orlando's Antarctica: Empire of the Penguin display.
"Antarctica is a really intense, remote environment, where we met," Ms Grieve told Inside SeaWorld.
"It's a great thing this was a heart-warming occasion because it was zero degrees at the wedding."
Ms Grieve, who teaches conservation, preservation and archaeology courses at East Carolina University, said she hoped to one day return to the frigid continent where she had worked with the Antarctic Heritage Trust.
Her work included protecting the legacy of late-1800s explorers, including the bases and artefacts they left behind.
Jeff Rawson's work focuses on supporting scientific research on climate studies and ice core sampling.
The pair braved minus 60C temperatures during their time on the ice continent.
"Antarctica is such a beautiful and intense environment," said Ms Grieve. "When you experience that with someone, the bond you create is rare. Having our wedding here at SeaWorld in this realm that so perfectly captures the essence of the continent brought me right back to the day Jeff and I met."