Orleans
Address: 48 Customs St East, Auckland
Ph:(09) 309 5854
www.orleans.co.nz
Stars: 4/5
Verdict: Cajun cracker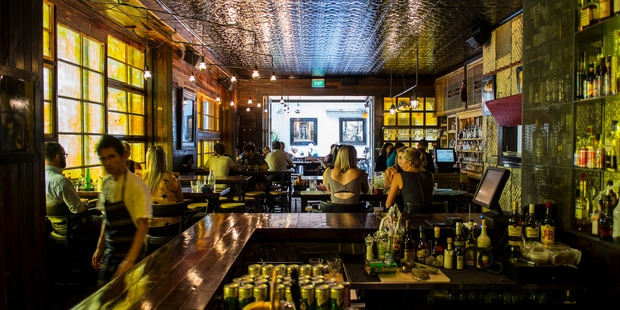 Bill's in a wheelchair. I suppose you could say that's how he rolls. So I thought it worth checking that Orleans was wheelchair-accessible.
It is, but the bloke who (eventually) answered the phone was smart enough to point out that all the tables were what are called "leaners". These items of furniture, born in the public bar (think Jake Heke in Once Were Warriors) have become very popular in restaurants, perhaps because they encourage diners to eat up, drink up, pay up and leave.
Bill would not have thanked me for an evening spent reaching for food at eyebrow height, but it turned out there are a couple of sit-down tables in the laneway outside the door and they relaxed the no-booking policy so we could nail one.
I was grateful for that because I had gained a bit of a Bill's-eye view of Britomart on the way to Orleans and it wasn't pretty. First, we found one mobility parking space (or "crips' park", as Bill calls them) in the entire precinct. It was occupied, so we drove around for some time before ending up by the Ferry Building.
On the long roll from Orleans, we discovered footpaths with paving stones loose or, worse, protruding upward; kerbs that sloped suddenly and crazily onto the road; and loading zones where delivery vans could stop at 8pm but Bill's orange permit was no use at all.
So, by the time we got there, I was feeling pretty shagged from fretting on Bill's behalf. "You get this sort of thing all the time," he said, though he didn't really use the word "thing".
We were greeted like long-lost friends by a waitress called Holly, whose enthusiasm was infectious. (How are you all?" she asked. "Are you living the dream?"). Though overworked to a frazzle, she remained upbeat and (mostly) focused throughout, which was impressive. A young French waiter who wandered by was excellent at taking our order for an extra dish but, as we later discovered, he hadn't quite mastered the bit where you tell the kitchen about it.
The Professor complained that the live music was too loud but I told her to loosen up: conversation was still possible and, anyway, I was enjoying listening to the guitarist and trying to pick when he was playing the real chords (on Witchcraft, it was hardly ever, but it sounded good).
Oh, dear. That chap who always posts comments on the end of my reviews saying that I don't say enough about the food is getting antsy now. I can feel it. So here goes:
The waitress said the jambalaya balls - like Italian arancini but using a rice base flavoured with smoky sausage - were not to be missed, but I thought them unremarkable and the accompanying "dirty gravy" was the colour of something that only an ear, nose and throat specialist should see, and tasted of nothing at all. But that was the only nit I could pick all night. The Professor ordered pickled fresh fig on toast, which sounded like something for a spinster's afternoon tea but was remarkably bright and fresh and the gorgonzola cream lent some rich bass notes to it.
A dish of grits - the polenta-like cornmeal that is a staple of Southern food - was greened up with herbs so it looked like pesto and it wasn't quite as, well, gritty as I'm used to, but it worked a treat with some fat shrimps and vinaigrette.
More substantial fare was provided with tiny, but mightily, juicy lamb ribs which came with a smoky dipping sauce and a tart salad of cucumber and mint to cut through the fattiness. I could have put away about 50 of those suckers but I had to turn my attention to the baked gnocchi.
These were essentially fried polenta, which is a dish I have cooked (and eaten) more than enough and I rather wish the menu had mentioned their composition. The Professor ordered lemon polenta cake for dessert, which just proves I will never understand women, but the gnocchi dish as a whole was most successful, smothered in a tomato napoletana sauce, and topped with mozzarella and chopped walnuts.
A baked whole flounder topped with succotash (a sort of sweetcorn ratatouille) was excellent, moist and tasty, and a baked cheesecake with stewed strawberries was state of the art. I hope that will do.