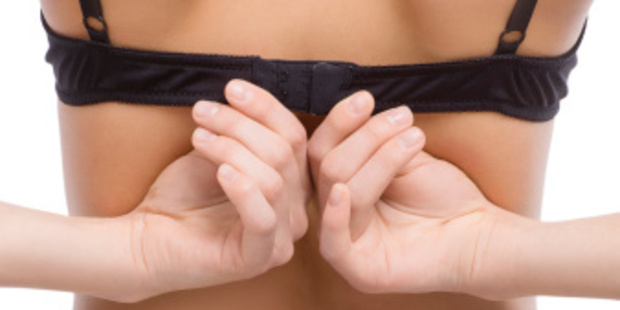 Just when you thought wearable tech for women couldn't get stranger (we've already seen vibrating knickers, a GPS jacket and a tweeting shoe), here comes the True Love Bra.
The bra, designed in Japan, has an electronic clasp that automatically unhooks only when it detects that its wearer is in "true love". A sensor detects a rise in her heart beat, sends it to an app via Bluetooth for analysis, and then "calculates the True Love Rate based on changes in the heart rate over time".
According to the creators, when the TLR exceeds a certain value, the bra is unhooked automatically. If your heartbeat doesn't rise, it doesn't unlock.
The bra is designed by lingerie company Ravijour to "save women" by working as a kind of chastity belt.
Obviously, the bra would be useless in a case of serious assault. But the sparkly, diamante-studded bra looks more like it's designed to help a woman figure out how she feels, rather than seriously protect her from unwanted attention.
I have a couple of concerns that the male designers seem to have overlooked:
1. What if the woman doesn't want to unleash her breasts on the man who makes her heart rise?
2. Our heart rates don't just rise when we're in love. The poor woman might find her heart racing during a job interview to find her bra unclasp itself and her breasts fall out of her top. Or she could find her heart rate rising while running for the bus or giving a work presentation.
3. What if our bra wearer never finds her true love and gets stuck in the bra for life?
4. What if, and bear with me here, she wants to get her boobs out and have sex with somebody she doesn't love? Because you don't always have to be "in love" to take off your bra in the presence of another human being, you could just be "in lust".