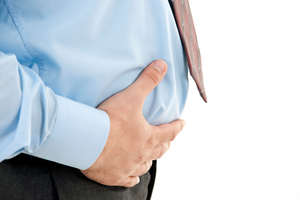 Being born first in a family has historically conferred special rights but it has now been linked to increased health risks in middle age.
Not only is middle-aged spread more prevalent among first-born males; their cells are less sensitive to the hormone insulin.
Reduced insulin sensitivity increases the risk of developing type 2 diabetes, high blood pressure, heart disease, stroke and cancer, say the Auckland University researchers who conducted the small study in which the differences were found.
The study of 50 healthy, overweight men aged 39 to 51 found that those who were first-born children weighed 6.9kg more than those born second and were heavier for their height. They were also one-third less sensitive to insulin, a hormone which helps cells to process glucose for energy.
The study, by the director of the university's Liggins Institute, Professor Wayne Cutfield, and colleagues, is the first of its kind in mid-life.
It follows Liggins' findings last year in children that those born first had higher blood pressure and 21 per cent lower insulin sensitivity than those with older siblings.
The significance of the latest study, although it is only a snapshot of one age group, is that it may reflect the metabolic effects of the shrinking of the typical New Zealand family since the 1960s. The fertility rate shrank from a peak of 4.3 births per woman in 1961, to 3.2 in 1971 - and was 2 in 2012. Smaller families mean a higher proportion of first-born people in a society.
Professor Cutfield suspected birth order might have contributed to the development of the obesity and type 2 diabetes epidemics since the 1970s, with widespread effects because of the large and increasing proportion of first-born people in many countries owing to declining fertility rates.
"There is this changing pattern in nuclear family size that approximates the evolution of the epidemics," he said.
In their paper, published today in the journal Scientific Reports, the researchers said: "There is some evidence that birth order influences growth and metabolism, from infancy to early adulthood. First-born babies have lower birth weight but more rapid growth and weight gain in infancy, such that in childhood they are taller than later-borns."
Although the height discrepancy was reduced by early adulthood, first-borns tended to have more fat and less favourable cholesterol levels.
"... being first-born may be associated with persistent changes in metabolism and body composition that may lead to greater risk of developing type 2 diabetes mellitus and cardiovascular disease."
The mechanisms were unknown, but the researchers suggested it might occur during pregnancy.