Snacks and bread are uppermost in Aaron Brunet's mind, finds Donna McIntyre.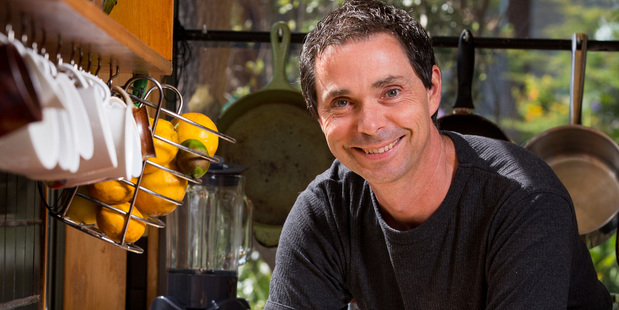 If last year's MasterChef winner Aaron Brunet had to choose one of his rival contestants as a partner for this year's new pairs format, he would opt for the unflappable Ella Krauts.
"I know Ella was very calm all the time and people work in different ways. I would find it useful to work with someone who was balanced and calm."
The former IT consultant likes the idea of the duo concept and will be interested to see how it develops during the series.
"For us, as individuals, you feel like all the pressure is on you and you cope with that. But then the team dynamic is a whole different pressure and I'm really interested to see how it goes.
"I watch My Kitchen Rules quite a bit and some people work together better than others. The good side is you cover each other and support each other. It's great to be able to bounce off someone else and to share the pressure."
Casting the net wider, his ideal cooking companion is his wife, Ani. "We work well in the kitchen."
Aaron and Ani love preparing simple family meals from fresh produce. Their 14-year-old daughter Ariana's favourite food is pasta but Aaron and Ani favour fish and salad.
"Especially in Raglan. We have great fish and we often have things growing in the garden. We're not really into creamy sauces, much more into nice fresh veges. I love chilli; fresh spicy food.
"We talk about food a lot and brainstorm ideas all the time. Quite often, Ani will have a great idea and I have the technical know-how to pull it off. And she's very good on presentation which is not one of my stronger points. We would be a good combo."
Aaron, Ani, both 43, and Ariana have just arrived back at their Raglan home from a week in the Bay of Islands, staying with Ani's parents near Russell.
It's been a well-deserved break - Aaron has finished an intense six months working on his cookbook, due to be released in April, as well as doing a stint in the super-busy kitchen at Euro after the grand finale aired in June.
"I was cooking at Euro in August through to the start of September. It was a very big leap and Euro is a very big kitchen. It's about as far as you could go from being a home cook.
"It's a steep learning curve when you are used to doing things at your own pace in your own kitchen, to be working with lots of other chefs in a big team where there are hundreds of customers out the front.
"I think it was pretty successful month. I certainly had a lot of people come in to have my food and I was trying to get out and meet everyone.
"It showed me that working nights in a restaurant is not my chosen career. It's not what our family is looking for. It's a whole different lifestyle and I think most of the chefs who do that see very little of their family. We are a pretty close-knit family who do lots of things together."
His cookbook is now at the printers and Aaron will spend a week at book launches around the country in April. He will also appear at the Waikato Food and Wine Festival next month.
He's "chuffed" with the project. "My book is about not trying to be too fancy, to be realistic about the food we might cook every day. I do have a few MasterChef-fy things but I wanted to make the focus genuine food."
He credits the foundations of his success to his Mum, Zora, who taught him and his younger half-brother Sam, the basics of food preparation.
"Mum came out from Italy when she was 10 or 11. She has always made amazing food and I guess it has always been something that I have wanted to know how to cook because of her influence and giving me a good expectation that things can be fresh and taste great even if they are simple."
Aaron had to develop and test 80 recipes for his book. He then had to prepare them for photographs.
"We did four days in a row of photos with four days prepping. It's a 16-day thing, so you are doing 10 recipes a day.
"That is a logistic challenge. It was a big thing to organise the ingredients, so even on the fourth day you had to have all the ingredients still looking good to be photographed.
"We did all the photos in my kitchen at home."
His home is a board-and-batten "beach house", close enough to the coast to have a peep of the sea and to hear the surf.
That base has stayed the same but other aspects of his life have changed since winning the MasterChef NZ title.
"I found it a big change. It's a big thing to get used to the idea that a lot of people know you when you're out on the street. And it is a big thing to live up to what you have created. It is a whole new part of yourself that you have to discover.
"When you go on MasterChef, you have an idea and you put yourself out there to do it and it's a massive change to your life," he expands.
"I feel like I have been reinventing myself ever since the show.
"I had felt like I wanted to change from IT work and one thing I did before MasterChef started was build a wood-fired oven and started baking sourdough bread for the people who come to my wife's yoga classes.
"Partly, when I entered MasterChef, I was thinking working on bread and heading in the food direction feels like the right thing for me.
"The opportunity to apply for the show came up and I thought I could learn more about food, get some experience and, the better things go, the more known
I will be - which might be a good thing in terms of any food venture I might do next.
"When it turned out that I won, it was more than I expected, and it was 'What do we do now'?"
Does he feel a pressure to make the most of the limited window of opportunity that follows winning MasterChef?
"I have had a lot of points of view and advice from people, even the judges on the show.
There's a range of perspectives from 'This is your chance right now, grab it while it's hot' through to 'Take your time, do what you really want to do and do it right'.
"People have been asking me for months what I am doing next.
"I'm finally at a point where I have a reasonable idea of what I am doing for the rest of the year.
"I have been thinking of a snack bar that is savoury, satisfying, delicious, the kind of a mini meal you can buy and munch on. Something that fills the gap and doesn't leave you feeling hungry 10 minutes later.
"We often go on car trips and we're looking for something to eat and most of the stuff you can buy at the petrol station is instant snack food and either very sweet and full of sugar or potato chips.
"I am keen to put the project on [crowd-funding website] Kickstarter for a month as soon as the book is launched. I will ask for support from people to develop and produce my range of snack bars.
"Kickstarter is great because it gives feedback from the market. If it is a good idea, it will go ahead; if it's not, it doesn't go ahead and no one has lost anything except the time you put into it, as opposed to trying to borrow money from friends and family.
"I will develop them at home but I will be looking to partner with a company that can manufacture them.
I want to have my name on them.
"And bread is my other thing. When I was at Euro I made my own bread and it went down well. So I am keen to develop some artisan bread products. I am really hooked on sourdough. It is fascinating to make,
I love eating it and it makes the best toast ever."
It looks like the Brunet kitchen again will be a hub of activity with these new projects on the go - and a kitchen redesign to fit in all the appliances Aaron won on the show will just have to wait a while.
Programme info
Series five of MasterChef New Zealand returns tonight on TV One, this year as a duo competition in which pairs of amateur cooks try to cook their way to the title.
Judges Simon Gault, Josh Emett and Ray McVinnie are confident they will get even better food with pairs in the kitchen, and the format reflects the teamwork that is needed in professional kitchens.
MasterChef New Zealand will screen twice a week on Sundays and Mondays at 7.30pm on TV One.