Unusual recipes from around the world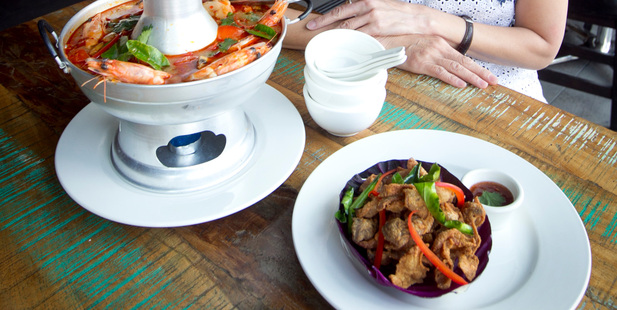 In her Thai homeland, a night out for drinks isn't complete without some crispy fried chicken skin on the side, says Bow Manoonpong.
So when the restaurateur opened Thai Street, a street-styled restaurant in Wynyard Quarter, she started serving crispy skin - also known as nhang kai thod - as a complementary snack.
"Crispy deep-fried chicken skin is as popular in Thailand as hot chips are in New Zealand, and you can find it at every street corner," said Ms Manoonpong.
"When we go drinking, they are well-loved snacks to go with alcoholic beverages like beer and whiskey."
Ms Manoonpong believed seasoned and deep-fried skin was first thought up by street food vendors who wanted to make the most of each chicken they sold.
"Thais don't believe in wasting anything. We also use things like prawn heads to make our tom yum soup more tasty instead of throwing them away," she said.
"Different vendors will have their own secret way of seasoning to make their chicken skin snack tasty, so there is no standard recipe."
Nhang kai thod is generally prepared by deep-frying chicken skin with a little salt and serving it with sweet chilli sauce.
Ms Manoonpong's partner, Edward Viterbo, a Filipino, said fried chicken and pork skin is also popular in the Philippines.
Called "chicharron" it is usually made out of pork skin, although chicken skin is used to make chicharron manok, a variation of the snack.
Nhang kai thod
Ingredients
• 10 chicken skins (skin from breast is best)
• 1 teaspoon chicken flavouring powder
• 1 cup flour
• 1 cup corn starch
• salt and pepper

Method
• Scrape off excess fat from skin; set aside.
• Pour cooking oil into pot and bring temperature slowly up to 190C.
• Mix flour and corn starch in a medium bowl, season with chicken powder, salt and pepper.
• Drain skins and toss into seasoned flour, make sure they are evenly coated.
• Place skins in the oil and fry until crispy and golden brown.
• Remove skins with metal strainer and drain on a paper towel.
• Season with salt and pepper and serve with sweet chilli dipping sauce.
Where to try:
Thai Street, 3/12 Jellicoe St Wynyard Quarter. Ph (09) 307 0500.