Mark Amsler, senior English lecturer at the University of Auckland, explains where common words come from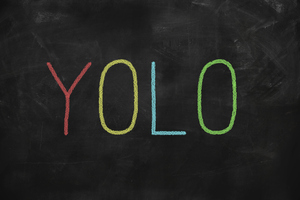 Acronyms (such as "Wof") and initialised abbreviations ("CIA") are nothing new in many languages, especially in corporate, administration or bureaucratic settings. But English speakers have a fondness for making up such words. And they are words, whether we pronounce them with syllables or say their individual letters. The number of acronyms in English increased markedly during the 20th century, mostly due to military and government usage. More recently, new digital networks and formats have accelerated the creation and use of new acronyms. Popular culture, street talk, and popular music push acronyms such as YOLO ("You only live once") and FOMO ("Fear of missing out") into wider use.
Take YOLO, for example, one of many groups' nominees for word of the year in 2011. My 9-year-old the other day gave me his concise definition of YOLO: "You say it after you do something risky or maybe dangerous or not good for you, but you do it anyway." Not what you want to hear from your pre-teen, but he is a good source of linguistic information. The acronym, now all over under-30s' talk, Facebook posts and text messages, was boosted by Drake's 2011 song, The Motto (featuring Lil Wayne).
Drake raps, "Now she want a photo. You already know, though. You only live once - that's the motto, nigga. YOLO [my punctuation]". Shortly after Drake's song was released, Zac Efron sported a YOLO tattoo on his right hand. We were watching a popular culture trend in the making. But Drake didn't create the word. One of the earliest attested uses of the YOLO acronym comes from 2004, when Adam Mesh, from the reality TV show The Average Joe, launched a line of urban streetwear called YOLO. Now YOLO belongs to urban street speech, rap, and the youth-oriented digital world.
FOMO is another new acronym but the word has a different back story, maybe more than one. The Oxford English Dictionary definition of FOMO is: "Anxiety that an exciting or interesting event may currently be happening elsewhere, often aroused by posts seen on a social media website." But the word's origin and first meaning might be different. FOMO might have been created in the mid-1990s by marketing analysts as an acronym to explain how new media commerce was undermining traditional brand loyalties. At least, that's what Dan Herman, a marketing guru, claims on his website. Herman also says he created the word and the concept. The problem is, he doesn't give any citations or links to back up his claim. In any case, FOMO and its meaning have now moved beyond market analysis and become part of the affective vocabulary of life online.