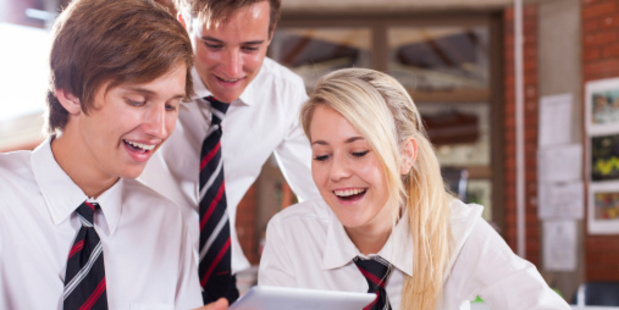 "I've long been a fan of single-sex education for girls", I wrote in 2012. There's a bit more to it, but the short story is that I'm sold on the idea that such an environment allows students to flourish because "counterproductive gender biases are eliminated at an all-girl school".
One reader response to the aforementioned piece caught my attention: "Very interesting perspective. I wonder if the same applies to all boy school[s]. Or would boys do better in a mixed environment?" This is, indeed, a question worth pondering in light of the number of boys' schools, once bastions of pure maleness, that have decided to admit girls to their hallowed halls.
Read more: Shelley Bridgeman: In favour of all-girls education
Thirty-four per cent of the roll of St Kentigern College, Pakuranga, is female (according to its 2009 ERO Report). Kings College, Otahuhu, has 15 per cent girls (from its 2011 report) as does St Paul's Collegiate, Hamilton, (from 2012).
Intuition alone would suggest it's not ideal for impressionable teenage girls to make up such a select, boutique subset of the roll. The sense they're a rarity, an anomaly, present purely on the whim of the establishment is not a positive one. Anyone would think these young women are being groomed for the boardroom or C-suite level. Perhaps these schools are conditioning them to be able to function in a hostile man's world in which women are woefully underrepresented.
The trend for boys' schools to drop the segregation they've long held dear continues. In July it was announced that "[a]fter 117 years as a boys only school, Huntley School's Board of Trustees and senior staff have unanimously decided to admit girls to the school from 2014". The headmaster "says his study of other schools that have moved from single sex to co ed does not show any sign of boys feeling inhibited in a co ed setting, or less able to be boyish".
But the matter of how the girls - who, if previous examples are any indication, will be greatly outnumbered - are likely to assimilate is not discussed. Why would it be when this school has considered issues exclusively from the boys' point-of-view for well over a century? Shifting focus to include its new cohort of students may not come easily in the face of such a well entrenched bias.
This trend for welcoming girls where once they were shunned is also evident in some UK schools. "Traditional boys' schools are increasingly admitting girls as a 'calming' influence on their pupils and to boost their positions in league tables", according to one headmistress in Girls risk being failed in mixed classrooms, head warns. Another expert said: "Lots of co-education independent schools take in a nice scoop of girls - many of them well educated in girls-only schools up until then - who improve the school's A-level results."
An article in The Guardian from 2007 claimed: "Parents want their daughters to go to single-sex schools, but not their sons." And, "researchers found that girls who go to girls' schools will later earn more than those from mixed schools." The research also found that: "Single-sex education seems to have a negative social impact for boys and a positive academic impact for girls."
Additionally, research from Israel "found that the higher the proportion of girls in a class, the better the results for everyone". It's unsurprising then that traditional girls-only schools are sticking to their knitting and remaining set in their absolute gender segregation. And, it's similarly logical that boys' schools would decide that inviting girls to enrol is a highly desirable option.
The point at which the logic of this equation appears to fail is when parents choose to send their daughter to a boy-dominated school in spite of the evidence that it's not likely to be in her best interests. What could drive such a counterintuitive decision? Perhaps it's related to geographical proximity. Or maybe it's about the convenience of having all their children at a single school.
Perhaps there's a high degree of dissatisfaction with the education provided by their current school. Or maybe the emotional ties with the (erstwhile) boys' schools are so strong that they can justify sacrificing their daughters' education in order to maintain connections. Regardless, it's a brave move. Surely the majority of parents seeking a mixed-gender education for their daughter would choose a school in which the gender ratio was close to 50:50 - a school in which girls are viewed as an integral component rather than just a desirable asset or, worse, a token gesture.
What reasons do you think fuel the trend for boys' schools inviting girls in? Would you send your daughter to a school where girls are significantly outnumbered by boys? Would you be willing for your daughter to be used as a "calming influence" in the classroom?