Longstanding mates Margot and Mel are the toast of London, finds Grant Allen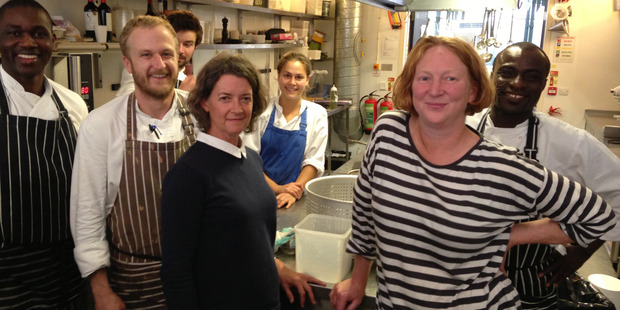 It was on a sunny late autumn day that I finally found the gate, tucked behind a large brick Victorian school building that sits on the edge of a leafy London square.
A rather misguided taxi driver had driven me in circles around Shoreditch trying to find the street. The gate opens on to a lovely green space, the entrance to The Rochelle Canteen.
This is home-base for Margot Henderson and Melanie Arnold. It's the hub of their catering business (Arnold and Henderson) and their delightful canteen-styled eating space.
It had been years since I'd seen Margot. We first met when, as Margot Clayton, she worked for us at Pierres in Wellington. With her flame-coloured hair, she's a bundle of laughter and energy. I loved the way she threw herself into any task at hand. I'd been following her path over time since she settled in London, where she has enjoyed much success.
It's a long story, so a brief version of it includes some key moments. Margot had just met her husband-to-be, Fergus Henderson, and attended a wedding with him. It was Melanie and Jon Spiteri's wedding and the two couples' lives became linked on that auspicious day. Fergus and Jon went to open one of London's best known restaurants, St Johns (pioneering the concept of nose-to-tail eating) and Margot joined forces with Mel to run the French House Dining Room.
Margot and Mel's next partnership started life in one of the Victorian schoolrooms in their present working domain. An ex-bikeshed was then converted to became the Rochelle Canteen. The team has grown, the seating-capacity increased and their clientele is among the hippest in London.
Random garden plots around Rochelle Canteen's courtyard reflect their home-style philosophy, hands-on approach and love of country life. Mel regularly gathers produce from hedgerows and her allotment, which ends up on their tables.
To quote Margot: "I cook in a straight-forward, no-nonsense way. I love European regional food, the food that women cook, food that is robust, delicious and not mucked about with. Fergus has been a huge influence in every part of my life. I love and adore him, in and out of the kitchen. He taught me to leave a quail whole, to cook slowly, let the ingredients speak for themselves and to stop smothering food in jus."
And indeed she does cook this way. I was told off for trying to throw a leaf of rocket on to the plate for a bit of photographic colour contrast, but I totally agree with her. If it can't be eaten, it should not be on the plate.
Margot quotes various influences on her cooking life, namely her husband Fergus, but also notes her mother-in-law as the one who really showed her the art of entertaining in a simple, effortless way.
After 20 years of working together, Margot and Melanie are sought-after all over the world. They have catered in Moscow, they are heading off to run the VIP area for the Firenze Art Fair, they have a dinner booked in New York and a dinner for 300 in Vienna.
Margot has just been a key note speaker at MAD, a global food symposium in Denmark, where she bemoaned the fact that cooking is becoming too scientific and women chefs too invisible.
Meanwhile, back in their leafy oasis, I enjoyed a long lunch. Rillette of rabbit, a dish of pigeon, a peach jelly and a crumble made from foraged apples and plums.
Margot then packed her car, an old London taxi, with some of her staff, kitchen equipment and me and we headed into town on the way to a charity event she was catering.
It was a joy to catch up. Margot still frothy and effervescent, her heart solidly in the kitchen, her energy still at a pitch, where, at any moment it would seem she could fly off the ground. She has shared some her recipes. These are not 20-minute wonders and I doubt that you will find a pigeon, so substitute quail.
All good things take time, but to capture the essence of The Rochelle Canteen and Margot Henderson, do try them.
Rochelle Canteen
Rochelle School
Arnold Circus
London E2 7ES
arnoldandhenderson.com


Recipes
• Rabbit Rillettes
• Apple and Plum Crumble
• Grilled Pigeon, Beetroot and Spinach