Address:
24A Spring St, Freemans Bay
Phone:
(09) 378 8977
Rating out of 10:
Food: 8, Service: 7, Value: 7, Ambience: 7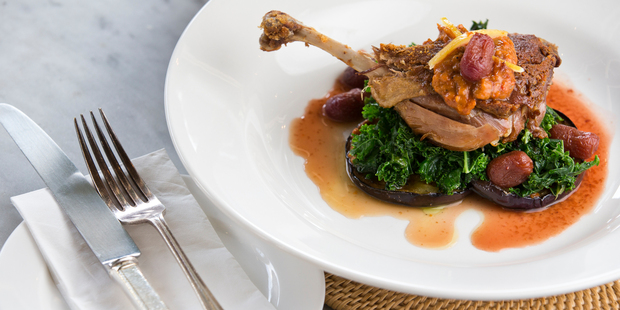 Oddly enough, you never hear restaurants boasting "we source all our food from commercial catering packs and, frankly, we don't give a stuff if it's seasonal or where it comes from so long as it's cheap".
So the claim that chefs are "passionate about sustainable and seasonal ingredients" is such a familiar piece of marketing schtick it doesn't carry a lot of weight. But at a tiny establishment like Queenies, it becomes quickly apparent that the claims to professional passion of chef Angus McLean are well-based. Our evening started with the delivery of complimentary fennel and raisin, and garlic and onion rolls that were so hot from the oven we couldn't pick them up. The food that followed was distinguished by the vibrancy of the flavours.
Queenies is essentially a cafe and lunch venue - it even describes itself as a "lunchroom" on its stationery - but it has extended its operations, offering dinner from Wednesday to Saturday.
The menu is small, which is not surprising given that they cannot accommodate many diners, and changes frequently so the dishes we had may not be around when you go.
The wine list, all from New Zealand except the champagne, is similarly limited but there's enough to give you a decent choice of food matches.
The vegetation-draped premises are attractive and, if you are squeezed, it's not unpleasant to sit outside on a warm evening watching the passing locals toil up the hill with their New World carrier bags.
I started with the spiced scallops - not very big ones and not too many of them, but any disappointment vanished with the excellence of the accompanying assembly of coriander, cucumber, mizuna greens, pickled ginger, Thai basil and a sambal coconut dressing which was clean, spicy and subtle.
Similar praise greeted our other starter, the vegetarian option of buffalo mozzarella with tomato, red onion, radicchio, basil and the currently ubiquitous pomegranate in a romesco sauce.
From the list of four mains I went for the fish of the day, grilled kingfish on a flavoursome butterbean and garlic puree with grilled asparagus, given some added crunch with hazelnuts and dressed with a tarragon vinaigrette. Not complicated but again with an appealing freshness.
The crispy confit duck leg was good and the accompaniments were well-chosen, with a blend of sweetness and spice - smoked eggplant, kale, preserved lemon, pomegranate, roast grapes and given a lift with harissa.
There was a choice of three desserts and what sounded like a good selection of cheeses, explained by a staff member who knew exactly what they were.
The chocolate delice was spectacularly rich, backed with a smear of tamarind caramel, ruby grapefruit and a caramel wafer and a little jug of cream. The limoncello panna cotta was of exactly the right consistency, with sharp fresh raspberries, a spicy ginger snap, pomegranate (again) and a shot of limoncello.
The overall atmosphere is that of the good local eatery, with regulars being greeted warmly but the outsiders, like ourselves, not left feeling like pariahs.
We enjoyed ourselves with only the passing thought that inside the building the quality of your evening could be largely in the hands of your neighbours, who are very adjacent.


Our meal: $157.50 for two starters, two mains and two desserts and
three glasses of wine.
Our wine: New Zealand wines dominate the limited but well-chosen list with enough options by the glass. Our Heron's Flight Dolcetto rosé suited a pleasant summer evening and the Shaky Bridge 2011 Central Otago pinot noir was particularly well priced at $9.50 a glass. They also offer Hallertau beers.
Verdict: An intimate and welcoming little diner with well-flavoured and carefully balanced food that lives up to its advertising.