Normally gloomy Sebastian Faulks is enjoying the abuse he's had for daring to write a pastiche of his boyhood hero, P.G. Wodehouse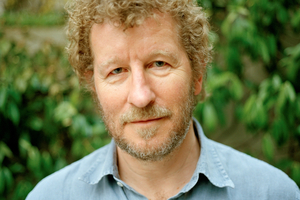 If he'd had his way, Sebastian Faulks wouldn't be a writer. Instead, he'd be a taxi driver, ferrying punters around London in a shiny black cab. "My father wasn't very encouraging about the idea, and I couldn't understand why," he says with a wry grin. "I loved cars and driving and I thought this was the perfect job. But he'd say, 'Son, I think you could set your sights on something higher'."
And so he did: a diplomat. "Of all the proper jobs, that's the one I feel wistful I didn't try harder for," continues Faulks, 60. "I did look at the papers to get into the Foreign Office, but it was a question of exams all over again. I just wasn't ready. I was 21 and I had hair down to my waist, smoked 40 a day and spent all my time in the pub listening to heavy metal music. I wouldn't have made a very good junior ambassador in Warsaw."
He soon found something more fitting: by 29, Faulks had published his first novel, marking the start of a career that would enshrine him as one of Britain's best-loved and best-selling authors. He has now penned 15, including Birdsong, the most famous of his wartime novels, Human Traces, his epic study of psychiatry, and Jeeves And The Wedding Bells.
This, his latest work, is a homage to the late, great P.G. Wodehouse, and a continuation of the adventures of his two most lovable characters, the hapless fop Bertie Wooster and the gentleman's personal gentleman, Jeeves.
"Brave," booms Faulks. "People said it was brave - or stupid. Either way, it was a ridiculous undertaking. P.G. Wodehouse is, by common consent, one of the great prose stylists of the 20th century. I didn't want to make a mess of it."
Others had tried, and failed - the BBC's recent adaptation of Wodehouse's Blandings Castle received mixed reviews, and Perfect Nonsense, recently opened in the West End with Stephen Mangan and Matthew Macfadyen, also raised eyebrows. Worse, Faulks was resurrecting the characters nearly 60 years after their creator left off.
"There was a terrific article in the Daily Telegraph about it," he says. "It described me as a presumptuous, hubristic, arrogant, delusional lunatic. Which I thoroughly enjoyed, because I admired the author's anger and I shared his reservations. He said that a lot of people will buy this book just because they want to be annoyed by it. Ha!" More was to come. "Online there is a huge amount of abuse, which I don't read but my wife does. One person called me a 'fat, bearded git - who does he think he is?' And my wife said, 'But you're not that fat'."
Faulks gives a wide smile that stretches across his whiskery face and into his tousled curls. He is wearing jeans and a creased cord jacket, which give him a languid, Englishman-abroad appearance.
Taking on Jeeves and Wooster was significant because he discovered the novels as a boy.
"I was 12 when I read my first one. Young people can enjoy them because they're light, and Bertie is a sort of child, lost in a grown-ups' world."
The idea of revisiting the characters was raised by his publisher, Hutchinson, also the publisher of all of Wodehouse's later novels. "I felt, in a way, it was fated," Faulks says. "I can tell I'm weakening in my old age."
He refused, but was persuaded by securing the approval of Edward Cazalet, Wodehouse's step-grandson and literary executor. To avoid a "pale imitation" of Wodehouse, Faulks weaved two changes into his plot: first, the reversal of the master-servant role, and second, the inclusion of a likeable female lead. It was, he says, "like making a fancy dessert out of egg white and spun sugar only - no flour, nothing weighty, nothing to give it body. But I got there in the end."
The finished product resembles, in all but cover, a traditional Wodehousian yarn. Harking back to the summer of 1926, it is a gentle, jolly tale - of farce and mistaken identity, of love lost and found, of cricket matches, village fetes and the eccentric upper classes.
Though it wasn't Faulks' first imitative work - he wrote Devil May Care, a continuation of Ian Fleming's James Bond novels, in 2008 - he says mimicking Wodehouse was "immersive".
"I'm rather a gloomy f***er and the great thing about Bertie is that he is a very generous-spirited, nice chap, with a sunny outlook on life. Forcing myself to think like that was good for me. It didn't affect the way I speak - I didn't start saying 'What ho, old fruit!' - but it did affect the way I think. It made me look on the bright side."
Which must have been refreshing, because Faulks is pretty gloomy on almost everything else. Though he has fond memories of his childhood in Berkshire and his "old-fashioned" schooling, his days reading English at university (Emmanuel College, Cambridge, where he is now an honorary fellow), were "not that great".
"It was puritanical and pretty grim, actually," he sighs. "I was a strange little chap; incredibly shy and diffident."
While there, Faulks was part of the college's disastrous University Challenge team, drunk on screen, smoking throughout and knocked out in the first round against Glasgow. "I wasn't very distinguished, was I?" he asks, cheeks reddening.
After university, Faulks taught at a private school in north London, ran an Arts Council-funded book club, and ended up on Fleet St, where he worked at the Daily and Sunday Telegraph and later The Independent. He wrote his first book, A Trick of the Light, in the evenings from his flat in Notting Hill. "It's terrible, surprisingly bad really," he says of it, with a dismissive wave of his hand. "Worse than you would imagine. It hasn't been in print since 1985 and I don't really want it to be circulated."
Next came The Girl At The Lion D'Or, the first in his French trilogy, followed by Birdsong in 1993, which is frequently voted Britain's favourite novel.
He acknowledges that the centenary of the start of World War I will be a milestone for wartime literature. He is on a "large unwieldy committee" advising the British Government on the commemorations, and says he hopes it will serve as a useful educational opportunity. "All my children seemed to be taught about was Nazis and global warming. I don't know at what age a child can be expected to understand both the political background to the war and the human dimension of the catastrophe - but it's a good chance to try."
Over the years, Faulks has dipped into other media: he is team captain on the Radio 4 literary panel game, The Write Stuff, and in 2011 starred in a four-part BBC Two series, Faulks On Fiction. Filming for television was, "unbelievably tedious - far too slow for me.
It made writing Human Traces [which took five years] seem like going down the Cresta Run, it was so exciting and fast."
He is just as disdainful of social media: though he once signed up to Twitter under an alias, he found it "dismal - just so depressing that I wouldn't go there".
Faulks aims to write no less than 1000 words a day, but this leaves plenty of time for cricket, tennis and crosswords. He lives in West London with his family: wife Veronica, formerly his assistant at The Independent, and children, William, 23, Holly, 21 and Arthur, 17.
Though Faulks is one of Britain's literary greats, none of his books has won an award, apart from "funny little things in Spain and Italy". He doesn't expect his Wodehouse tribute to be any different. "It isn't exactly..." He trails off. "I don't regret doing it; in fact, I very much enjoyed it."
And can we expect another? "Absolutely not. I don't want to become known as some sort of impersonator. I'm writing a book of my own now."
He nods resolutely, blue eyes glinting. "I mean it this time. Enough is enough."
Jeeves and the Wedding Bells (Hutchinson $37.99) is out now.