Ditch any preconceptions, a foodie weekend is fun whether you're a newbie or a seasoned gourmet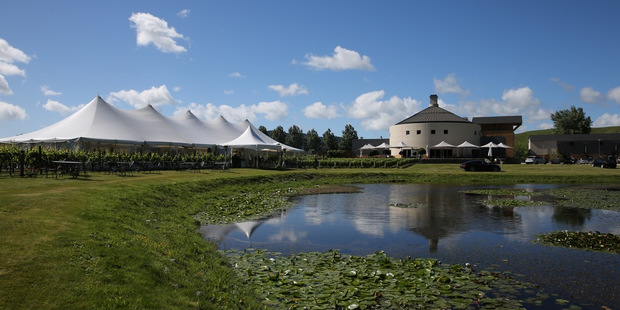 Let's just be clear. I am not a chef. I am not even a proficient cook. Family meals are prepared by me under duress. So, with no pretensions of being a competent foodie and this disclaimer out of the way, I can write about my experiences at last weekend's Summer Series Food and Wine Classic, or "FAWC!" (and pronounced 'fork') in Hawke's Bay and be honest about my level of skill. The FAWC summer series closes today after 10 days' worth of 50 food-and-wine-heaven events.
FAWC's opening night party was held on a somewhat rainy Friday last weekend, in a marquee amongst the vines at Havelock North's picture-perfect Craggy Range Winery.
The party is packed with locals, visitors and celebrity chefs, who enjoy offerings from 10 Hawke's Bay wineries. Luckily, the weather clears for FAWC's Electrolux Masterclass Series of cooking classes in the marquee the following morning. There are four sessions altogether, with recipes from the first two classes shared with you here.
Now, before I attended the FAWC Electrolux Masterclass series I had a totally inaccurate preconception that these types of classes were just for people who took their cooking very seriously. I am wrong. It is a fun, informative and inspiring morning and it doesn't matter whether or not you're an absolute beginner or at Cordon Bleu level. First up in the marquee's demonstration kitchen is The French Café's executive chef and co-owner, Simon Wright. Wright is a brand ambassador for Electrolux cooking appliances, not to be confused with the brand's famous vacuum cleaners.
Wright had made 400 delicious South Island whitebait sandwiches for the opening party the night before and in his masterclass he shows us how to make them. They are absolutely sublime and luckily for you he has shared the recipe with Living. Wright also shows his deft knife skills preparing a snapper cooked in paper (or en Papillote as foodie folk like to call it). Removed from the oven and plated-up, the fish looks like a work of art.
Next in the kitchen is the effervescent Nici Wickes, World Kitchen presenter and Viva restaurant reviewer. In the audience we nibble on plates of Wickes' pea and prawn fritters with minted yoghurt dipping sauce as we watch her prepare a delectable caramelised pork clay pot and mango salad, recipes from her new book, Cook Eat Enjoy. Right on cue, plates of the pork and salad arrive on the tables for us to savour. I am in heaven.
Despite being a reluctant cook I feel so inspired I buy Wickes' new book after her demonstration and queue for her to sign it. Actually, I make sure I am first in the queue.
If you're like me and think spending time watching top chefs work their magic might be intimidating, rid yourselves of those types of thoughts. All you need is an interest in eating. There is nothing better than watching experts at work. It is loads of fun and I love my morning in the marquee.
Not only that, I am determined to cook Wickes' clay pot recipe next week.
Recipes
• Nici's Mango Salad
• Nici's Caramelised Pork Clay Pot
• Nici's Pea and Prawn Fritters
• Simon's South Island Whitebait Sandwich
Recipes courtesy of FAWC! - Food and Wine Classic Hawke's Bay. Penny Lewis was a guest of Electrolux.