Each week, Wendyl Nissen takes a packaged food item and decodes what the label tells you about its contents.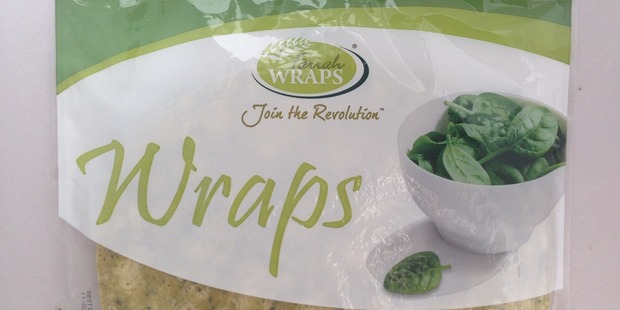 Wraps are universally regarded as a healthy food. You lay them out, fill them with salad and fold them up.
But when wraps first came on to the market they cracked and split when you rolled them because they were stale.
Wraps have been eaten in Mexico, Greece and Turkey for years but they were made fresh each day and called tortillas, lavash or pita.
The wraps we buy in the supermarket come in plastic bags and need help to look fresh, even when they're not. And most importantly, as these wraps state, they won't crack or split when rolled.
Ingredients
• Wheat flour
• Water
• Vegetable oil - Not sure which oil is in here.
• Salt - Each wrap will give you 652mg of sodium.
• Raising agent (341, 450, 500) - These are calcium phosphate (341), diphosphates (450) and baking soda (500). These act as baking soda does in our cooking to give some lightness to the bread.
• Emulsifier (471) - This is mono and diglycerides of fatty acids (471), which is probably in here to keep the bread soft.
• Preservatives ( 200, 281) - These are sorbic acid (200) and sodium propionate (281), which are both natural additives.
• Acidity regulator (297) - This is fumaric acid, which occurs naturally in fruits.
• Wheat starch - This would be a thickener, similar to corn starch except from wheat.
• Antioxidant (319) - This is tertbutylhydroquinone or TBHQ. It is a synthetic compound used to preserve fats and oils in food. It is allowed in our foods but at very small doses after high doses were found to be toxic to laboratory animals. Personally I avoid this additive.
• Stabilisers (223, 900c) - These are sodium metabisulphite (223), which is produced from sulphur. And a new one on me is dimethylpolysiloxane (900).
This is listed as an anti-foaming and anti-caking agent and the only reference I could find was 900 not 900c.
• Spinach - This is far down on the list of ingredients so this is a very small amount. You can see tiny flecks of it in the bread.
• Garlic - Not a lot in here, probably for flavour.
• Basil
• Parsley
• Spice extract
• Natural flavours - Good to see natural flavours in here.
• Colours (102, 110, 133) - Despite the use of two very green herbs and a green vegetable there is still colour added, and they're artificial. Tartrazine (102) and Sunset Yellow (110) were included in a voluntary phase-out called for by Britain's Food Standards Agency and an EU-wide health warning must now be put on any food or drink that still contains these colours as they are thought to cause hyperactivity in some children.
Brilliant Blue (133) is an artificial flavour that has been the topic of many studies, most recently by the European Food Safety Authority and is currently allowed in foods.
• Soybean oil - This is a very small amount and is possibly in here as a glazing agent or similar.
My recommendations
I find it hard to reconcile the fact that a wrap is considered a healthy option for many families yet inside each one of these you will find not one but three artificial flavours - two of which have been phased out in Britain and must carry warning labels if used in the EU.
The wraps also contain seven additives to keep them from cracking or splitting when rolled and one of those additives, TBHQ, is synthetic and healthy eaters, like me, avoid it.
If you were to make a flatbread such as this there would be five ingredients - flour, oil or butter, water, salt and a raising agent or yeast.
The problem with flatbreads is that traditionally they are made fresh and eaten fresh. But these wraps must sit on a supermarket shelf and act fresh - no cracking or splitting - even months after they've been made.
Distressingly I bought these on November 4 and their best-before date is February 11, 2014 - a good three months later.
Unless you feel like making flatbreads yourself, I'd give them a miss and go for a fresh slice of bread or pita for your sandwich and save on the colouring and the additives.
Highlights
• Three artificial colours, two of which have been voluntarily phased out in Britain.
• Seven additives to keep the bread "fresh''.
• Will last for three months.