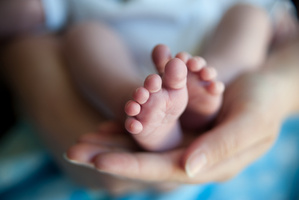 Pregnant women who are exposed to even low levels of air pollution are at an increased risk of giving birth to low birth weight babies, according to a large-scale study.
Air pollutants - in particular fine particulates found in traffic fumes and industrial air pollutants - along with traffic density increased the risk of low birth weight and reduced average head circumference of babies born at term, research has shown.
The study, drawn from data on 74,000 pregnant women in 12 European countries gathered between 1994 and 2011 and published in the Lancet Respiratory Medicine, estimated concentrations in the air of nitrogen oxides and fine particulates at home addresses.
Traffic density on the nearest road and total traffic load on all major roads within 100 metres of the residence was also recorded.
Researchers estimated that for every increase of five micrograms per cubic metre in exposure to fine particulate matter during pregnancy, the risk of low birth weight at term rose by 18 per cent.
This increased risk remained at levels below the existing European Union annual air quality limit of 25 micrograms per cubic metre.
The study authors estimated that if levels of fine particulates were reduced to 10 micrograms per cubic metre - the World Health Organisation annual average air quality guideline value - 22 per cent of cases of low birth weight among term deliveries could be prevented.
Low birth weight for a baby born at term was classified as less than 2.5kg. The study took into account other factors such as maternal smoking, age, weight and education.
"Our findings suggest that a substantial proportion of cases of low birth weight at term could be prevented in Europe if urban air pollution, particularly fine particulate matter, was reduced," lead author Dr Marie Pedersen, from the Centre for Research in Environmental Epidemiology in Barcelona, said.
"The widespread exposure of pregnant women worldwide to urban ambient air pollution at similar or even higher concentrations than those assessed in our study provides a clear message to policy makers to improve the quality of the air we all share."
- PA