Mark Wallbank is behind many of Auckland's most fashionable and successful restaurants - from pre-recession Rocco to Magnum, Moochowchow and current Ponsonby favourite Blue Breeze Inn. A former chef at London's The Ivy, he began his career at Parliament, in the in-house restaurant, Bellamy's.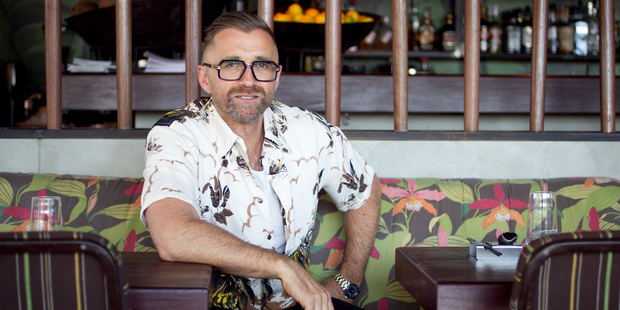 1. How did a 16-year-old from a Hawkes Bay farm end up working at Bellamy's?
My uncle Allan Wallbank was an MP and he got me a job there as a waiter. I was on a bus to Wellington at 16. I always knew I wanted to be a chef but they only had waiter jobs going. It was an amazing place then, early 1980s and the waiters were these real silver service guys. I learned so much from them. I'd come from a really sheltered background and in the kitchen I got to know these ex-drag queens from K Rd, Samoans, Tongans, gay men, gay women. These were people I'd never met! It was an invaluable education.
2. Did you get to know the MPs?
Oh yeah. Robert Muldoon. David Lange. Robert Muldoon was gruff but very polite. He was older then, ill, but I was in awe of this funny little man. David Lange didn't eat a lot actually - it might have been after his gastric bypass. You'd go to serve them dinner and there'd be a Labour table and a National table. It taught me which side to vote for because the Nats looked so smart in their suits and the Labour side looked, um, bohemian.
3. Was the food pretty ordinary?
I eventually did get a job in the kitchen and did my apprenticeship for five years. It taught me good fundamentals of cooking, the classics, basics. I learned margarine carvings too. Ice sculpture. If you need an ice sculpture, see me.
4. Did you always want to be a restaurateur?
Oh yes. My mother was the most amazing cook but she also threw fabulous dinner parties. She'd do really wonderful, crazy food. But it was her parties that made me want to have a restaurant. The ladies had big hair, big culottes. They'd turn up in formal dress to our farm.
5. It must have been difficult to afford your first restaurant, even after years being a chef in London. How did you do it?
It is hard, you need a bit of money and have to get the guarantors. I built homes when I got back to New Zealand, with the goal of making enough money to borrow against it. Opening Rocco was one of the scariest things I've done. We'd been open for only two weeks when we had a lawyers' function upstairs. One of them fell down the stairs and I saw my whole life flash before my eyes. Luckily he was okay.
6. What's the biggest mistake budding restaurateurs make?
So many things go into a great restaurant - it's not just the food, though that has to be wonderful of course. It's the visuals, the sounds, you need an electric atmosphere. People want a whole experience and a reason to put on their good shirt. I think some restaurateurs try to create a space they think other people want, but they don't want themselves. People can tell when it's not authentic.
7. Where is Auckland's most overlooked restaurant?
My local - the Refreshment Room in Titirangi. Amazing Italian.
8. What's your best celebrity anecdote?
David Beckham swinging by my old restaurant Magnum. He was my hero - and all the other girls'. The room went crazy. He had a burger and a Coke. I tried to get a pinot noir down him but it wasn't his bag.
Funny story, when he walked in he picked up a girl's handbag and said, "Sorry, miss, you've dropped your purse." She turned around, saw him and screamed.
9. Does the long lunch still exist?
Yes it does, but people are more realistic now, I think. They order the $65 bottle of wine, not the $120 so much. Ladies absolutely still lunch. And so do the boys. We've had lunches that have lasted from noon until midnight. I don't sit down and join them, I never sit down with the guests. It's a respect thing - and if I do then it lets the rest of the staff feel they can do it too.
10. What's the funniest sight you've seen at the end of a long lunch?
I saw someone at Rocco trying to leave out the front window instead of the door. They were waving to their friends and fell out, did a massive somersault out on to the road [Ponsonby], didn't realise what had happened and just got up and walked off.
11. Do New Zealanders tip?
Mostly no. I think that black-and-white rule that so many people have - that Kiwis don't tip - should be squashed. If you've had an amazing night there should be some reward. I'd say a 10 per cent tip - not compulsory, discretionary. But we need to tip when it's worth it if we're going to improve our service.
12. Do gay men make better hosts?
They certainly make better lovers.