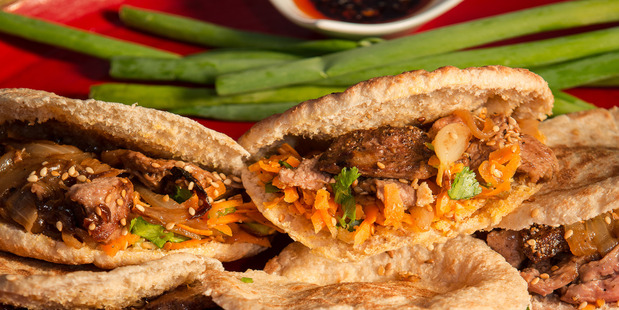 Serves 4 hungry people or 8 as a snack
• 400g lamb tenderloin, back strap, sirloin or similar cut for quick pan-fry cooking. This recipe is equally delicious with beef.
• 2 tbsp cornflour
• 2 tbsp water
• 1 tbsp Shao Xing (Chinese cooking wine or dry sherry or whiskey)
• For filling - small pita pockets, little burger buns or the new-trend sliders
• For spicing - chilli sauce. Lee Kum Kee brand is very good.
Asian slaw
• 5 medium carrots, peeled and grated
• 3 fresh, firm spring onions sliced (green and white ends)
• ½ cup freshly chopped coriander
• Good salt and freshly ground black pepper
• 2 tbsp fresh lemon juice
• 2 tbsp peanut oil
• ⅓ cup toasted sesame seeds
Fry-up
• 2 finely sliced medium sized onions
• 2 tbsp peanut oil
• ½ tsp five spice powder
• 1 tsp cumin powder
• ½ tbsp freshly ground black pepper
• 2 tsp sesame oil
• 3 tbsp dark soy sauce
• 2 tbsp Shao Xing rice wine or dry sherry or whiskey


1. Cut lamb into thin strips.
Combine the cornflour, water and Shao Xing wine in a bowl, add the lamb and coat well and set aside for 15 minutes.
2. Next prepare slaw, combine in a bowl the grated carrots, spring onion, coriander, toasted sesame seeds, salt, pepper, lemon juice and oil. Set aside.
3. Fry sliced onions in peanut oil until golden, set aside.
4. Put 2 tbsp peanut oil in large smoking-hot fry pan or wok. Toss in five spice, cumin and black pepper. They will immediate release a spicy aroma. After 30 seconds slide in the lamb, toss in the spicy hot oil for 1 or 2 minutes. Add sesame oil, soy sauce, Shao Xing rice wine and the fried onions. Cook for 1 more minute and remove pan from heat.
5. Cut a slit in the pita pocket and warm in the toaster until still soft (not crunchy). Set on the table and everyone can pile in the Asian slaw and warm cumin lamb. Serve with your favourite chilli sauce. Xiangshòu - Enjoy!