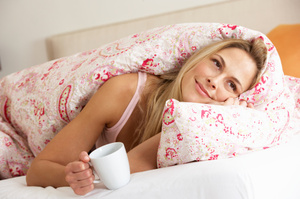 I think maybe twice in about 12 years of working nine-to-five (more like 8.30am to 6pm actually) I woke up feeling jaded and unmotivated, and so decided to call in sick when really I was just exhausted.
From memory I justified it to myself by contemplating all the days when I was slightly unwell yet still managed to turn up to work and put in some solid slog. In the scheme of things I considered that my soldiering on mostly seemed to balance out the isolated incidents of lethargy.
The dignified term for this type of spontaneous day off is "having a mental health day" which lends the practice a veneer of respectability that "throwing a sickie" can't muster.
If I recall correctly there were unofficial guidelines covering the execution of a mental health day. Avoid Mondays or Fridays - or the boss might think you're trying to snag a long weekend. You must telephone to report your faux illness before the actual time you were expected in at work. I imagine that today people might text or email, in which case there's no need to practice the croaky, weak voice that reinforces your story.
I'm always amazed at the people who venture out in public when they throw a sickie.
Going shopping (unless it's for tissues or headache pills) or going to the movies is tempting fate. You're almost guaranteed to be seen by someone who will report the sighting. Surely it's best to stay at home. I always used to stay in bed if I ever took a (real or manufactured) sick day but then I'm lazy like that.
In my last job I witnessed a very awkward scene when a woman approached her boss to confess that during the sickie she'd thrown the previous day she had entered a sporting tournament and she'd unexpectedly qualified for the finals so now she needed more time off. I don't know how she had the gall to do this but it struck me as pretty poor judgement at the time. If I was her boss I would not have been happy.
The writer of Is It Mental To Take A Mental Health Day? pulled a sickie because he "couldn't bear the thought of going into the office and facing that same white wall again" then attended a sports event that night and ended up broadcast on television. Despite his feelings of guilt and discomfort, his conclusion was that the judicious use of mental health days is just fine. He's clearly in the majority because it's reported that "82 per cent of Americans admit to taking mental health days".
An Australian perspective is presented in Workers throw a sickie to save their sanity - unless they live by the beach which says 63 per cent of workers "admitted to taking a sickie at some point in their lives to get the day off." Reasons for this included hating their boss, feeling burnt out and having family commitments.
In Doona days or doctor's notes: how to solve the $26 billion sickie problem? an Australian expert suggested that "one possible reason behind the sky-high absenteeism is a lack of flexibility in workplaces". A doona day (or duvet day as it is known in some parts of the world) allows staff unscheduled time off without the need for excuses or lies.
How Duvet Days can reduce staff absence somewhat counter-intuitively claims that the "so-called duvet day is an innovative way to tackle the problem of staff absence." It gives the example of a Swansea call centre that allows staff three duvet days a year. Said to be ideal for hangovers, the duvet day can be taken at short notice and comes off the employee's holiday entitlement. A drop in sick days was recorded when this policy was implemented.
There are many complexities associated with the issue of mental health days and clearly there are varying opinions about them. The only potentially helpful suggestion I can make is that if (contrary to all advice) you really must leave the house on your mental health day perhaps you could consider a disguise. Research indicates that many awkward moments could have been avoided simply by wearing a wig, spectacles and false moustache.
Have you thrown a sickie? Is it an acceptable thing to do? What's the most daring use of a mental health day you've heard of? Should New Zealand companies introduce duvet days?