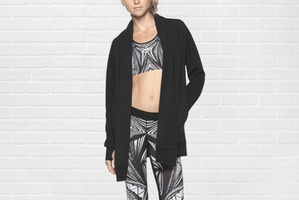 Nike has pulled its tattoo-inspired sports gear for women after a backlash from the Pacific community.
The Pro Tattoo Tech gear - sports bras, leggings, jumpsuits and singlets - was inspired by traditional tatau of the Pacific.
But it proved to be controversial, after members of the Samoan community claimed the women's leggings gave an appearance that the wearer had a pe'a - a traditional tattoo reserved for men.
Nike's United States office was only made aware of the issue yesterday and released a statement saying the firm had decided to pull the line.
"The Nike Tattoo Tech collection was inspired by tattoo graphics," a spokeswoman said. "We apologise to anyone who views this design as insensitive to any specific culture. No offence was intended."
The pe'a is made up of triangular patterns, lines and colour-blocking. Women have their own tattoo - the malu - which is made up of simpler designs.
Nike's tattoo fashion line was a limited edition and had only just been made available in the US and on Nike's online store last week.
There had been no plans to release the gear in New Zealand or other parts of the Pacific.
A Herald story yesterday attracted thousands of mixed reactions.
Many felt the international sports brand had disregarded cultural protocol and used a design without fully understanding it.
Mangere MP Su'a William Sio, who has a pe'a, said it was disturbing to see such designs on a woman. Yesterday he said it was a relief that Nike had decided to stop the sale of the garments.