Address: 7 Fort Lane Auckland
Ph: (09) 929 2702
Web: www.everybodys.co.nz
Rating: 4.5/5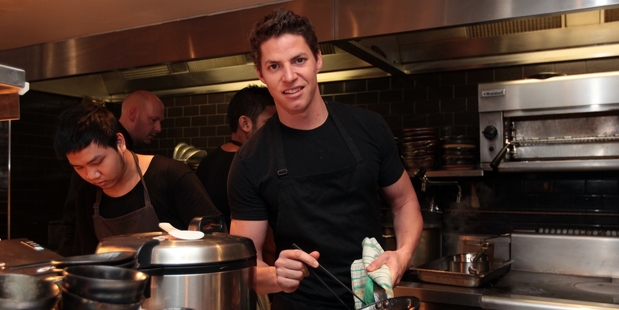 Last week, reviewing a smart little Japanese cafe in Herne Bay, I wondered whether Japanese-inspired cuisine (as opposed to sushi, tempura and donburi) was becoming one of the dominant themes of eating out around town.
I then discovered that Everybody's, the bistro in the Imperial development at the bottom of town, had morphed in late June into Everybody's Izakaya and, in doing so, further proved the point.
The man behind this new venture is Nick Honeyman, who first impressed me at Sale St, where he cooked food so fantastic that it made the hideously deafening music from the adjoining bar almost bearable.
He spread his wings at The Commons in Takapuna, where he still presides. But he has trained under Japanese chefs and worked in Japan, and he told a hospitality industry magazine that he undertook a month-long research trip back to the country before designing the menu. And the result, as far as I am concerned, seals his reputation as one of the best chefs around town.
He wasn't actually in the building the night we were there - though unlike some of the so-called executive chefs in Auckland, he was at least in the country. But it's hard to imagine his finding fault with what his deputies did in his absence.
The word izakaya, the menu tells me, comes from the Japanese words for "stay" and "sake shop", which suggests an establishment devoted to drinking rather than eating. But food is an important part of the service: they even have a word, sakana, for the dishes that are served in izakaya.
One is tempted to call them Japanese tapas and as far as I can gather that is what they traditionally were - little nibbles of fish and pickles and fried chicken and the like, usually salty so as to induce profitable thirst in customers. But just as the original Spanish idea of tapas has come a long way from the original bread and olives, izakaya has developed into more substantial fare.
The food at Everybody's Izakaya tips its hat to tradition, but an original twist is imparted to each dish, typically by marinades, sauces, or dressings. The menu has sections headed "raw", "meat, fish and vegetables" and "desserts", but a fourth, at the top, is devoted to custards and tofu. The latter, made in house, is described as "silken" on the menu, which I think sells it short; its consistency is halfway between marshmallow and clotted cream and the rich, layered taste erases those hideous memories of the rubbery and virtuous store-bought variety.
This list also includes a chawanmushi (egg custard) of cured salmon, which I foolishly forgot to order. But the rich miso soup, poured at the table over fresh mushrooms and greens, was an experience in itself.
The rest of the menu, which may be salivated over online, posed the problem that there was virtually nothing I was not drawn to. My companion, an electrician by trade and a home-brewer by inclination, was busy telling me the beer he'd ordered lacked the requisite bass notes or somesuch, so I took the opportunity to order for both of us.
Reluctantly passing over the kingfish sashimi (with a green apple consomme), I enjoyed a dish of citrus-cured snapper whose sharpness was beautifully mellowed by a slightly gritty paste of coconut; a beef tataki was lifted out of the ordinary by shallots and a delicately sweet ginger chutney; and a plate of raw vegetables (radish, carrot, daikon) were made very special by a dipping aioli with the faintest hint of blue cheese.
Among the larger dishes, none of which tops $20 unless you insist your beef must be wagyu, the duck was a standout: boned and marinated before being quickly deep fried, it was a welcome escape from the prevailing confit-or-roast choice.
Pork belly came with tiger prawns, an odd marriage, I know, but Honeyman pulled it off with scampi and pork tails on The Commons' early menu and here the pork was so unfatty and the prawns so meaty that they worked together perfectly.
Slices of eggplant, baked to melting, and topped with minced chicken cooked in a sweet white miso, were also a revelation and salty miso icecream with lychees made a memorably astringent dessert.
All in all this was a stellar performance from a reliable talent, and the service, an effortless blend of warmth and efficiency, was a credit to the place. Go soon.


Verdict: Nick Honeyman strikes again.