Address:
158 Jervois Rd, Herne Bay
Phone:
(09) 360 0555
Rating:
3 ½/5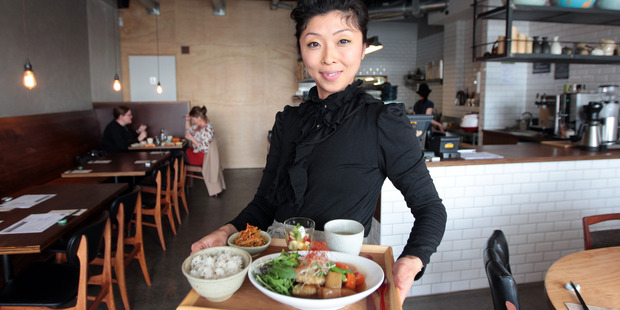 Is Japanese food the new black? I'm not referring to your standard sashimi, sushi and tempura, or the more hearty, vernacular food-hall standard donburi, which has something in common with Korean cuisine. I'm thinking about the modern Japanese (or fusion, if you must) that has made its mark in Auckland in the past couple of years.
Kazuya Yamauchi's eponymous restaurant in the unprepossessing stretch of shops at the top of Symonds St rightly features on plenty of foodies' "best of" lists: its impeccably presented blend of Japanese (yuzu jelly on an oyster) and Italian (prosciutto and parmesan), with Kiwi grace notes (kina foam; cauliflower soup) was a revelation to me.
Fuji Oizumi left Kura to open Oedo above a motel in Epsom, turning out cheap-as-chips tapas-style dishes, such as tempura kumara with an aioli-like dip and fish carpaccio, that showcase an adventurous approach and meticulous technique. Yoko and Koichi Kigami, refugees from Christchurch, served halloumi, Cajun spices and tortellini on the night we went to their place, Tatsumi, in Newmarket.
Doubtless there are others, but it occurred to me as I took another spoonful of the boeuf bourguignon at Janken that things have come a long way in the 20-odd years since Japanese food first started making its presence widely felt here.
Yes, you read that last sentence correctly: boeuf bourguignon in a Japanese restaurant. The French classic, as its name suggests, originates in Burgundy, southeast of Paris. It's the home of pinot noir, so naturally their two classic recipes, coq au vin and this great beef stew, call for two bottles of wine (one for the dish and one for the diners). I didn't expect to find it in a Japanese restaurant, but it should be clear by now that this is not just another Japanese restaurant.
Janken, as a little line drawing on the menu suggests, is the Japanese name for the rock, paper, scissors game which the Professor and I play regularly to decide which of us is going to do some unpleasant task such as take the wheelie bin up to the gate on a cold night.
Quite what the game, a Chinese invention but popular in Japan, means in the context of the restaurant, I have no idea. Perhaps they want guests to use it when there's a disagreement about what to order. But my mate Philip, who joined me on a perishingly cold night a couple of weeks back, was happy to leave all the ordering to me.
The restaurant, with seating for fewer than two dozen, occupies a space in a new commercial development on the John St corner of Jervois Rd, which has been fitted with a ceiling in white pine tongue and groove and has a floor of sanded concrete. White tiles on the front of the counters create a clean, sparse impression and a glass cabinet displays most of what's on the very short drinks list: three wines (a sauvignon blanc, a chardonnay and the pinot for the beef; two quality sakes; half a dozen beers and two juices.)
The word "organic" is sprinkled like confetti over the menu, including the selection of tea and coffee, and the two dessert options are vegan and gluten-free respectively.
This is all well and good, though I must protest at the description of the beef as "grass-fed", since you have to go out of your way in this country to find beef that isn't. Still, that bourguignon was melt-in-the-mouth silky and the gravy (described as a "red-wine sauce") rich enough to make mopping it up with the excellently crusty bread a meal in itself.
We passed over the small sushi selection in the interests of adventuresomeness, but enjoyed a couple of bowls of their excellent miso soup, which was thick with seasonal vegetables done al dente. These arrived with our zensai (entrees) of a superb beef tataki and pork buns, the latter unlike the puffy Chinese fast food versions with their tiny nugget of minced pork and more like sliders filled with slices of excellent pork belly.
The other main was a wonderful nabe (hotpot) of fish and other seafood on udon noodles, which arrived bubbling, and some cool texture was provided by a deliciously fresh salad of carrot, pine nuts and quinoa.
The bill, excluding drinks, was less than $100, which makes it dearer than bog-standard Japanese, but it's well worth checking out.


Verdict: Smarter than average