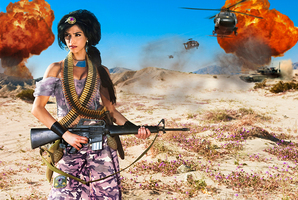 Fairy tales would have you believe that every princess has a happy ending, but one photographer's striking series challenges that notion.
Fallen Princesses, a project by Vancouver, Canada-based photographer Dina Goldstein, shows Snow White, Princess Jasmine, Pocahontas and other iconic characters succumbing to tragic fates including cancer, alcoholism and unhappy marriages.
"My Fallen Princesses series was born out of deep personal pain, when I raged against the 'happily ever after' motif we are spoon fed since childhood," explains the Tel Aviv, Israel-born photographer.
Ms Goldstein told Cargoh.com that she was inspired to create the images when her daughter first became interested in princesses, and her mother was diagnosed with cancer shortly thereafter.
"The two events collided and made me wonder what a princess would look like if she had to battle a disease, struggle financially or deal with aging," she said.
"I began to imagine what could happen to the princesses later in life and after the happily ever after. Naturally they would have to deal with challenges that all modern women face."
Indeed, she explains her first idea was to depict a modern Rapunzel, who had lost all her precious hair to chemo.
The image shows Rapunzel looking forlorn as she sits on a hospital bed, clutching her long blond locks that have been fashioned into a wig.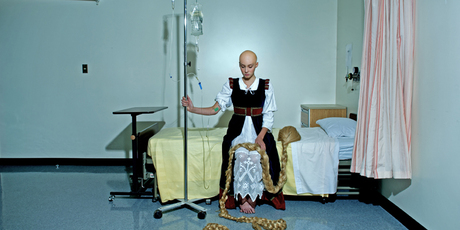 In another photo, a desolate Snow White is seen clutching two crying children while another tugs at her dress.
She appears to be the victim of an unhappy marriage, as Prince Charming is seen in the background watching television and drinking beer instead of helping with the kids.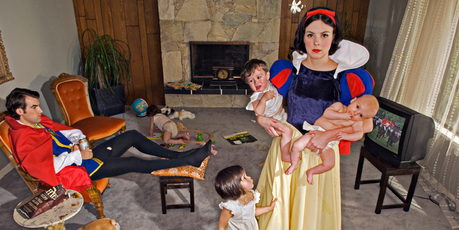 "I am a fierce realist so I wanted the princesses to be in real life situations with problems of their own."
Even Cinderella's story has a tragic ending; a dark image of the blonde princess shows her sitting with her head down in a dingy bar, holding a shot glass as a group of men look on.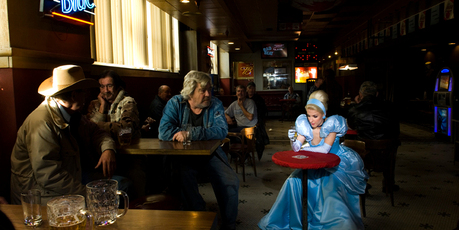 The modern version of Little Red Riding Hood is more plump than little.
She is pictured in the woods sipping on a large fountain drink and cradling a picnic basket of fast food, a symbol of today's obesity epidemic.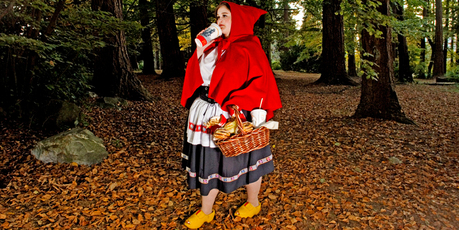 "I am a fierce realist so I wanted the Princesses to be in real life situations with problems of their own," Ms Goldstein explains.
The photographer shot her images in various locations around Vancouver, including a landfill, where one model perched atop a stack of mattresses for her pollution-themed Princess and the Pea interpretation.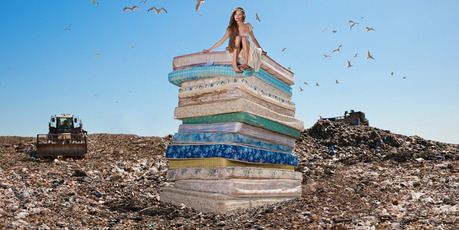 A buxom Belle from the Beauty and the Beast is pictured being nipped and tucked by cosmetic surgeons in her jarring portrait.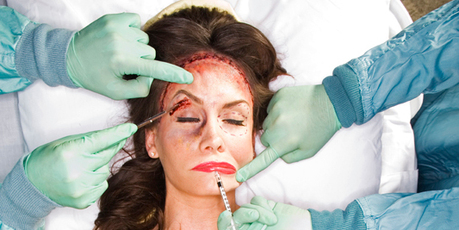 "It forces you to contemplate real life: war, obesity and the fallacy of chasing eternal youth."
In the classic Disney story, Pocahontas finds love with British settler John Smith. But in Goldstein's modern rendering, she watches television alone in a dark room, surrounded only by dozens of cats.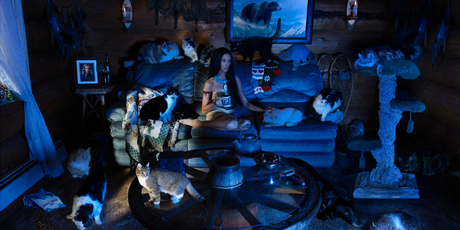 And Aladdin's love interest Jasmine is depicted as a modern warrior carrying a huge gun in the middle of a war zone.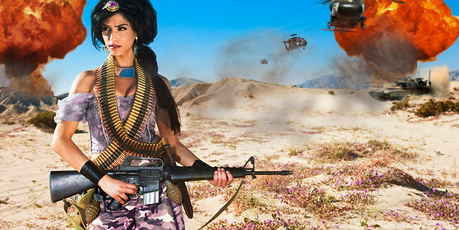 This is one of the more controversial photos, as some accused the photographer of
"placing the Middle Eastern Princess as a terrorist".
On the contrary, "she is a warrior, fighting on the front lines, just as so many women are today in Iraq," explained Goldstein.
The photographer said she hopes her thought-provoking images will stir the emotions of viewers.
"The series. . . [forces] the viewer to contemplate real life," she said.
"Failed dreams, pollution and ocean degradation, war, obesity, the extinction of indigenous cultures, cancer and the fallacy of chasing eternal youth."
Check out all the images in the gallery below: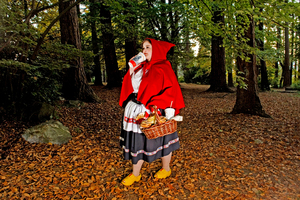 - DAILY MAIL