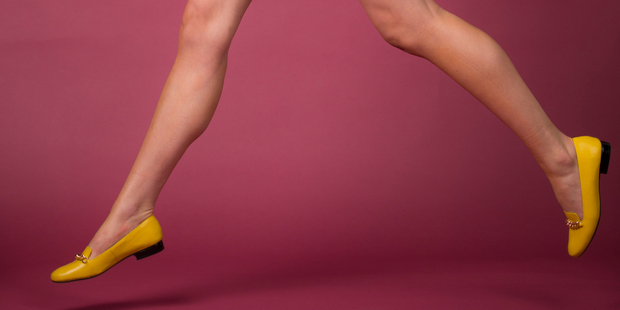 Flat shoes, from ballet flats to classic penny loafers, are seeing a resurgence of late as designers develop new ways to re-interpret flat shoes as an all-occasion option from work to weekend.
Recent Northern Hemisphere resort collections for 2014 highlighted the flat shoe, from boyish tassel loafers at Louis Vuitton, to pointy, bowed loafers at Erdem. Alexander Wang's signature aesthetic of offbeat separates was enhanced by minimalist white loafers with a structured sole (#8).
Moving seamlessly between formal and casual, the penny loafer is one style of flat footwear that's both understated and practical. Beau Coops and Karen Walker have once again delivered a fresh take on the humble loafer (#5), which works well with both skirts and jeans. Available in cream, navy and bright orange, each colour is an irreverent nod to a classic.
Spanish-based footwear brand Chie Mihara has gained a loyal following of fans with its fresh take on classic styles from the past. The "Inyo" loafer from Runway (#4) is the perfect example of a classic style.
Re-worked in a fresh pistachio-coloured patent leather, it's the perfect accompaniment to some of this season's sorbet and floral print pieces.
Check out our favourite loafer picks below: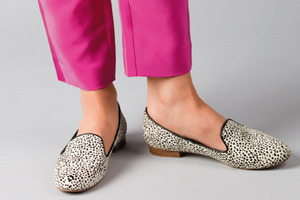 1. Miss Wilson loafers, $199. Polish sweater, $295, from Little Stitch. Kate Sylvester skirt, $685.
2. Mi Piaci loafers, $170. Elizabeth and James pants, $560, from Muse Boutique.
3. Sylvester loafers, $345. Topshop pants, $175, from The Department Store.
4. Chie Mihara loafers, $490, from Runway. Tibi pants, $550, from Muse.
5. Beau Coops for Karen Walker loafers, $460. Lee jeans, $199.90.
6. Therapy studded flats, $44.99, from Number One Shoes. Emilio Cavallini hosiery, $34.99, from Farmers.
7. Mi Piaci embroidered loafers, $170. Gorman pants, $199.90.
8. Alexander Wang resort collection, 2014.


Stockists: Farmers 0800 10 11 70, Gorman (09) 529 2279, Karen Walker (09) 309 6299, Kate Sylvester (09) 307 3282, Lee, Little Stitch (09) 214 6848, Mi Piaci (09) 523 2412, Miss Wilson (09) 446 1004, Muse Boutique (09) 520 2911, Number One Shoes, Runway (09) 522 0808, Sylvester (09) 307 3282, The Department Store 0800 DEPARTMENT STORE.