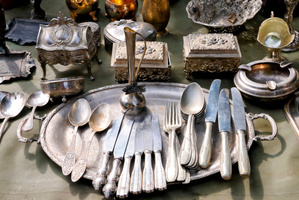 When it comes to putting a price tag on family heirlooms, one of the country's top valuers says it's not all about the trash-or-treasure television cliche.
James Parkinson, director of Auckland-based Art+Object, who recently completed valuations at Government House and Te Papa, will be on hand at this weekend's New Zealand Family History Fair.
Having hosted many antique roadshows for Kiwis, he estimated about one in 20 had significant worth.
His most memorable surprise was an astonishing collection of Napoleon Bonaparte relics, including a lock of the emperor's hair, that surfaced at a Rotorua roadshow.
Other amazing finds included a Chinese carved ivory bowl worth up to $12,000, a collection of 10 pieces of English silver valued at $20,000 and a historic Maori god figure.
"You do see a lot of cups and saucers but occasionally you do get some pretty amazing things."
He said many Kiwis simply just wanted to know more about handed-down treasures.
"You do get families who pass stories down the line about certain items. Some are completely and utterly accurate, but others are the opposite," he said.