The Food Show is coming to town this week. Danielle Wright finds some treats are a family affair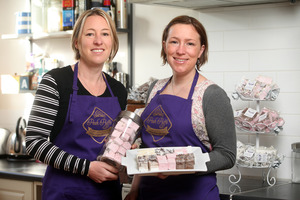 The great thing about The Food Show is that you're able to walk around and meet the people who make the products you love and to hear their personal stories.
It's always nice to meet family foodie businesses because childhood memories often revolve around food, and there's no place like the family dinner table for feelings of togetherness. We talk to three families to find out what happens when a shared passion for food becomes a business.
Posh puffs
Sisters Sarah Gibbs and Clare Fleming created the family foodie business Posh Puffs after a competition to create the perfect marshmallow.
"We're a very competitive family," explains Sarah. "Clare's husband attempted a homemade marshmallow recipe but it didn't work, so I took up the challenge. In our family, if somebody fails then the competition is on."
Posh Puffs are not your average marshmallows. Each one is handcrafted in small batches using only natural flavours.
They have no artificial colours or preservatives, are wheat and gluten free and come in seasonal flavours such as Lemon & Poppy Seed or Apple Butterscotch Swirl.
The sisters started making the marshmallows for friends and family and later sold them into gift stores, online and at farmers' and Christmas markets. They admit they were destined to go into the food business.
"Our mum owned a restaurant so we were all little sous chefs and pot washers from a young age," explains Sarah. "We're always in the kitchen arguing and bossing each other around, even now when we all have our own kids."
The marshmallows are made in Clare's commercial kitchen. She also runs a gourmet fish and chip shop in Nelson, where she makes all the dough, sauces and chutneys with the freshest ingredients.
Sarah says says the best thing about being in a food business with her sister is being able to bounce ideas off one another.
"We're great friends so can be quite honest with each other," says Sarah. "That can also be a bad thing, but we're really understanding of each other's family commitments and it's worked really well so far."
The sisters are careful not to "turn into marshmallows" themselves and last year they did a half-marathon and crossed the finish line together.
"We have an active lifestyle and family life," says Sarah. "It's good because it lets us have lots of naughty treats all the time, which includes plenty of Posh Puffs marshmallows."
• Posh Puffs are gourmet marshmallows from Nelson.


Business is sweet
It's hard to imagine a time when honey wasn't an item in everyone's cupboards, but back in the early days of New Zealand's food industry it was poorly presented and packaged and as a result not readily accepted by consumers.
Airborne Honey was the first to promote honey as a food that was healthy and nutritious by doing tastings on water crackers at displays in shops, talks in schools and by producing recipe books. Now look at us: a nation of honey-lovers.
Airborne Honey's managing director Peter Bray grew up in the beekeeping business and has remained involved in it. He remembers working for pocket money after school and during holidays, mostly extracting honey, which he recalls as "a hot and sticky business during the summer holidays".
"But, at least we always had sweet fingers to lick!" says Peter, who also remembers family picnics that were a cover for hive inspections and always wishing for more rain.
"Drought periods would cast a pall over the whole family because of decreased crop. It would threaten our economic survival."
Peter now has a son working with him in the business and a daughter at university who works for him during the holidays.
"The best thing about working with family is that they share the common goal and vision," says Peter. "And the worst is that they aren't quite as tactful when it comes to telling you what to do!"
Peter says the most surprising thing about working with family members is the insight they have about the business just from being exposed to it 24/7.
"They know things that I didn't know they knew," says Peter, "just from being around the business over the years and observing it."
Peter says he still loves honey and the industry is now far more technical and sophisticated. Airborne Honey runs a laboratory that took in more than 1300 samples last year.
"Our software allows us to map the apiary locations of every batch of honey we produce and we're able to print the analysis of each batch of honey," says Peter, whose family business is the oldest surviving brand of honey in New Zealand.
He encourages people considering a foodie family business. His best piece of advice is to remember family members are individuals with their own passions, skills and experiences. If you do that, he says, business will be sweet.
• Airborne Honey has been family-owned since 1910.


Where the grass is always greener
Green Meadows Beef is run by general manager Nick Carey, the youngest son of dairy farmer Michael Carey. Nick's older brothers Brent and Karl are also involved in the business, which produces premium 100 per cent grass-fed Taranaki Angus beef.
"It's our way of keeping involved in the family farm, yet making it interesting for the next generation by creating a brand new company," says Nick, a former lawyer. "It means we don't have to do the dirty work associated with day-to-day farming. It's a modern approach."
The business has brought the family closer yet Nick admits his relatives are less polite in telling him where he's going wrong than colleagues in other places he's worked.
He says it's more fun building a new business together than buying into an existing business.
"Because I'm the youngest brother, it's a new experience being the one trying to tell my older brothers what to do," says Nick. "But, they are really good to me and have given me full control and free rein. It's definitely not something you'd consider if your family is any way dysfunctional."
The business was Michael's idea. He wanted to sell the beef directly to consumers rather than to the meat works or exporters. It's paid off for the family and for us, the consumers. Everything is first-class, from the extraordinary meat and the sparkling silver boxes it's packaged in to the photography on the website.
"We started it as a family hobby and then saw that we could make a decent shot of it, so I put my hand up and quit my job," says Nick. "When it became a proper business, that's when the excitement came in."
Nick says the family has always worked well together on the farm - whether being told to milk the cows before being allowed to borrow the car to go to a party, or just knowing the way others in the family think and knowing when "enough is enough."
"We share the joys and horrors, the sad times, as well as the very good times, all around the dinner table as a family," says Nick. "We hardly ever talk about politics or the state of the economy now. It's more likely to be what's happening in the business and what is doing better, as well as opportunities. It can be hard on our partners."
Apart from that, Nick says there are hardly any negatives in it from his family's perspective. "We're having fun and trying to make something for our farm. We're generation four so it's rewarding to be able to keep the farm going through more generations."
• Green Meadows Beef produces premium 100 per cent grass-fed Taranaki Angus beef.


Meet the families at their stands at The Food Show from Thursday to Sunday at the ASB Showgrounds, thefoodshow.co.nz