Grant Allen finds some local meat treats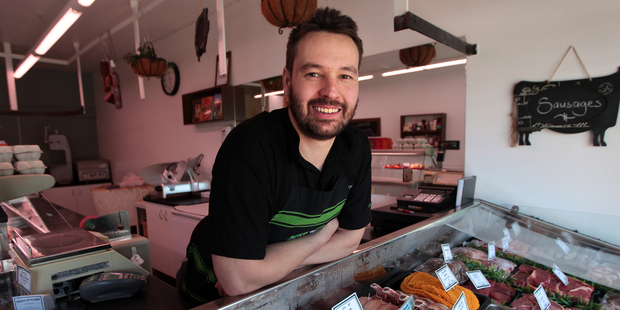 Over the past few years I have stopped buying meat at supermarkets. I find it better to go to an independent butcher and get exactly what I need. Instead of a pre-packed 600g of mince, I can buy the 500g that the recipe specifies. I can buy exactly the number of chops I need or the two slices of bacon and three sausages, if that's what I want.
But more importantly, I get to talk to the butcher about meat. I can order in advance if I need something a bit more unusual. A good butcher will trim, tie or debone meat for your special recipe or advise you on the best way to cook an unfamiliar cut.
A good butcher will know exactly where the meat comes from. The shop will even stock meat from different breeds of beef, sheep and possibly pork. A butcher knows that how an animal is raised will affect its eating quality so is likely to be selling free range, organic or humanely-raised products.
Best of all, as well as getting great meat from someone who knows what they are talking about, by shopping with your neighborhood butcher you are supporting small business and keeping it local.
At my local butcher in Grey Lynn, Lucia and Eddie Rodrigues have turned what was once a typical franchised butchery into something special. Last year they were voted Best Butchery in Auckland, by Metro magazine readers.
Former Nurse Lucia and her nephew Eddie love and know about food. I think their Goan heritage helps: I'm sure some of those Portuguese genes come into play as Eddie makes all manner of smallgoods and Lucia invents new sausage recipes.
They stock organic game and free-range meats and they make amazing bacon, both wet and dry cured. There is always something new to try - a proscuitto they are developing, a different flavoured kebab. Their aim is to bring back the old-school local butcher and with their charm and friendliness they always make it a pleasure to go and shop.
Over in Parnell, I head to Gladstone Butchery. Luke Barratt trained at one of Auckland's organic butcheries before he and his wife Laura bought this shop three years ago. They have brought a fresh new look, their own smiling service and a new approach to meat.
They have built a business for not just local shoppers but also customers from far and wide.
Every day they sell out of the 50 meat filled and delicious pies Laura makes each morning. I guarantee you will be hard-pressed to find a better pie around town.
The couple offer prepared meals - beef and guiness stew, cooked lamb shanks, a beef Wellington - plus their own sausage rolls and pasties, pate and, of course, sausages.
The shop is not big enough for them to make their own bacon so Luke has it made off site to his specifications.
He is keen to share his knowledge and he and Laura enjoy the friendship they have built with their regular customers. They are the modern version of that traditional local butcher: people happy in their work.
• Grey Lynn Butchers, 531 Great North Rd Grey Lynn Ph (09) 376 3567
• Gladstone Butchery, 64 Gladstone Rd Parnell, Ph (09) 303 32
Sausages
If you are lucky, you have a local independent butcher who is into making his or her own sausages. At my local, Grey Lynn Butchers, Eddie and Lucia are always asking me to try their latest creations. I am always more than ready, as I love my sausages. But I am still loyal to their old-fashioned pork variety. A brilliant sausage should be made from good meat, have enough fat to hold it intact when it fries and not too much artificial seasoning or fillers.
Recipes
• Grey Lynn pork sauages in onion sauce
• Gladstone crumbed sausages with mushrooms
• A platter of Grey Lynn goodies
• Braised oxtail with white beans
• Kumara and bacon bake
• Beef cheeks