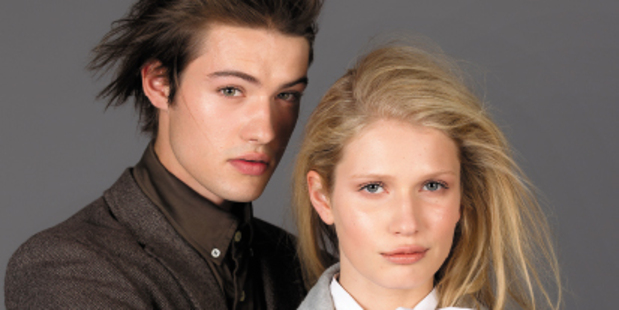 Tailored jackets have made a strong impact this season, with designers and retailers focusing on trimmer shapes, slim lapels and traditional fabrics such as tweed, wool and boucle. There's no denying the power of a well-tailored blazer, whether double or single-breasted.
Barkers have released a range of casual blazers that work well over casual or polo shirts, including the "Culleoka blazer" (#3). Crafted from a wool blend, the blazer features a double button-closure, a working cuff, discreet elbow patches and is the perfect option to wear to work. Providing a mid-range pricing on an updated English classic, Topman's tweed blazer has taken a modern approach, with slim peaked lapels and double back vents, which work well over a pair of jeans or chinos.
Ladies also get a look-in, with several designers highlighting both single and double-breasted blazers that are slimline and versatile.
Look for fitted blazers that look as comfortable in the office worn over a silk blouse - or, for a nonchalant nod to poster girls for blazers such as Kate Moss and French Vogue editor Emmanuelle Alt, try wearing one over a soft T-shirt and a pair of distressed denim jeans.
Ruby's double-breasted "Mr Jones" jacket (#4) is a good option for the season, with contrasting sleeves and a fresh colour palette for the perfect trans-seasonal piece.
Check out our favourite blazers below: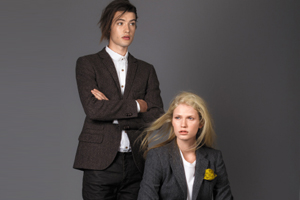 1. Nick wears Topman blazer ($350), from The Department Store. I Love Ugly shirt ($129). Lee Jeans ($199.90). Tristan Blair brogues ($400). Alice wears Leon & Harper blazer ($685). &Co by Twenty-seven Names T-shirt ($150). Glassons vintage wash jeans ($59.99). Pulp Noir Heels ($149.95) from Hannahs.
2. I Love Ugly blazer ($249) and T-shirt ($59). Barkers chinos ($100).
3. Barkers blazer ($299.99). Moodie Tuesday shirt ($149). Worldman sweater ($289). Topman trousers ($125) from The Department Store.
4. Nick wears Barkers blazer ($299.99). Moodie Tuesday shirt ($149). Alice wears Ruby double-breasted blazer ($199). Trelise Cooper pussy-bow blouse ($329).
Stockists: &Co. by Twenty-seven Names, Barkers, The Department Store 0800 DEPARTMENTSTORE, Glassons, Hannahs (09) 846 6761, I Love Ugly (09) 377 7022, Lee, Moodie Tuesday, Ruby, Trelise Cooper (09) 366 1962, Tristan Blair, Worldman (09) 373 3034