Top Sydney chefs will bring their fiery Argentinian style to Auckland Restaurant Month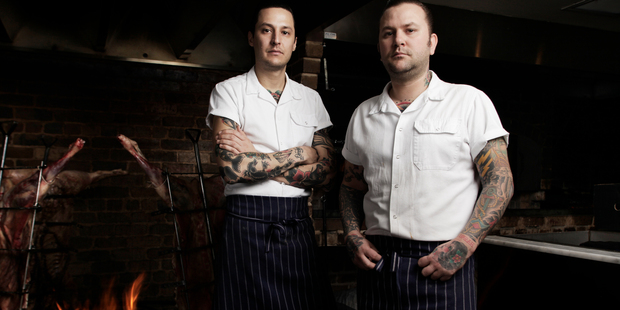 It's not every day that a restaurateur would allow a fire pit to be built in his eatery just for one meal. Nor would he welcome the arrival of whole lamb carcasses, splayed between fierce wire frames, to be cooked slowly over the pit for eight hours.
But when the firebrands are Ben Milgate and Elvis Abrahanowicz from Sydney's Porteno restaurant, all becomes clear.
Though much has been made in the Australian media of the duo's extensive tattoos and their rockabilly style, what really sets them apart is their rocking talent in the kitchen, along with the asador fire pit and the parrilla grills in their large, loud but oh-so-popular Argentinian restaurant in Surry Hills. Now the chef/proprietors are set to recreate that culinary magic in Auckland on August 7, at a special dining event at Vivace in Auckland's High St, as part of Restaurant Month.
"We will be bringing the Porteno style of menu to Vivace but making the most of the great New Zealand produce, too. And we will definitely be serving our signature brussels sprout dish as well."
Do brussels sprouts have a place in a restaurant that, surely, is a shrine to the flesh? "A third of our menu is strict vegetarian, a third pescatarian and a third meat," they say.
Ben and Elvis - named Best Chefs in the Sydney Morning Herald's 2013 Good Food Guide Awards, with two hats also awarded this year to Porteno - will be tending the asador themselves. It will be built in Vivace's courtyard.
"The lamb needs to be tended the entire time it is cooking," they say, and plans are under way to source a local hardwood for fuel. They use ironbark in Australia. "We will be overseeing the rest of the menu with the help of Vivace's chefs."
On the asador, the meat is cooked with the bones facing the fire. It is then turned in the last few hours so that the skin is able to crisp. At Porteno, the tending of the fire pit is done by Adan Abrahanowicz, Elvis' father, who hails from Buenos Aires.
"Each night we cook two full pigs and two lambs, our signature dishes [along with the brussels sprouts, of course]."
Because its takes so long to cook, when the asado runs out, it runs out. Fortunately, slow-cooked lamb and pig are not the only draws for carnivores. "The other meats - different beef cuts, poultry, sausages [morcilla and chorizo], which we make in-house, sometimes sweetbreads, too - are done on the parrilla, a flat-bed barbecue fired by coal.
"We use traditional Argentinian cooking techniques but our food is not traditional Argentinian. A few dishes are, but we focus the menu around cooking on the barbecue with great produce."
The pair, who met when they worked together at Sydney's Four in Hand restaurant, describe eating at Porteno as "all shared dining, like eating at home with your friends and family".
Just as the menu has been devised for sharing, the family spirit runs through the restaurant, which stays true to the South American theme with patterned tiles, marble tables, white-washed walls and exposed bricks.
Elvis was born in Argentina and both chefs say they try to visit every couple of years. Elvis' mum, Hilda, makes snacks in Gardel's Bar, above the restaurant, and his wife, Sarah - immaculately coiffed and dressed in 50s frocks - is the restaurant's maitre d'. Elvis' brother-in-law, Joe Valore, is also one of the owners and is the sommelier in charge of their mostly South American wine list.
When they are not at the grill at Porteno the pair can be found at Bodega, the even noisier tapas bar that spawned the restaurant. "We cook every night we are open, except when we go to events like this one. We divide our time evenly between Bodega and Porteno. We are never at home, always at work and there is rarely food in our fridges.
"This is our first trip to New Zealand and we are visiting for four nights. Wish it could be longer but we have to get back to the kitchen."
Any other restaurants likely? "No way," they say. "We are busy enough with the two."
But also busy writing a cookbook. Due out in Australia in November, it is titled Recipes for a Good Time and contains stories and recipes from Bodega, Porteno and their personal life, too. And then there's the about-to-open Porteno store, which will initially be selling Argentinian wines.
Ben and Elvis share their special brussels sprouts recipe from Porteno.


WIN DINNER AT FISH
More than 125 central-city restaurants and cafes will be creating special menus for the third annual Restaurant Month. As well, more than 20 food-inspired events have been planned from the Dining Behind the Scenes launch party on July 31 to one-night-only dinners with top international chefs in some of Auckland's best restaurants on August 7, 14 and 28. The wide variety of events includes a street eats family day at Queens Wharf on August 10 and a Winter Warmers Wine Tasting event at Victoria Park Market on August 17 and 18. And every time you eat out in August there's the chance to enter a competition to win a $10,000 ultimate foodie dining prize. For more, visit biglittlecity.co.nz.
To celebrate being a sponsor of Auckland Restaurant Month, Viva is is delighted to have one $110 voucher to give to a lucky reader to spend at Fish restaurant at Auckland's Hilton hotel. To go in the draw, go to viva giveaways and enter the keywords Restaurant Month on the VIP Viva page along with details. Entries close at 11.59pm on Sunday, July 21, 2013. For Terms and Conditions see the website.
A Taste of Porteno @ Vivace, $170 a person including wines. For tickets visit iticket
- VIVA