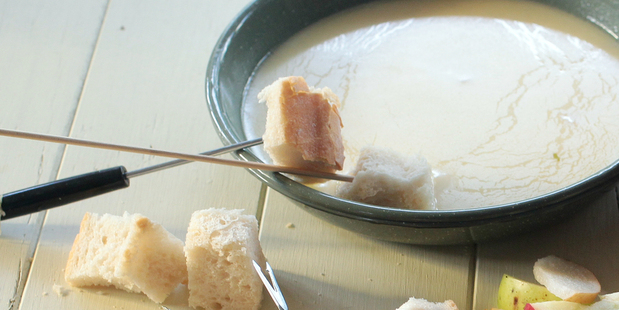 You might have a retro fondue set lurking in the back of the cupboard, so bring it out and fire it up for a winter warmer. If you don't have a kit, you can still make a fondue for an interactive eating experience. Cook in a regular saucepan on the stove top, and then pour it into a shallow bowl to serve at the table. If you have a fondue, you can do all the melting in the fondue pot. Use fondue forks or wooden kebab sticks to skewer the bread to dip.
For each person:
• 100g of cheese grated. Use Gruyere if you can or a hard cheese such as emmental that will melt easily, even a good tasty cheddar.
• Half a glass of white wine. Riesling is traditional but a pinot gris or sauvignon blanc will work.
1. Rub the inside of the pot or fondue with a cut clove of garlic.
2. Warm the cheese and wine very gently over a low heat, stirring often.
3. Once they have melted together, mix 1 tsp cornflour mixed to a paste with 1 tsp Kirsch (a German fruit brandy made with cherries, although I just used the brandy I had in the cupboard). This helps the mixture hold together.
Serve this rich, warm dip with cubes of bread and offer some crisp fruit alongside.