Are your teens ready for adventure and a feeling of conquering their fears? Danielle Wright finds out what's on offer close to the sky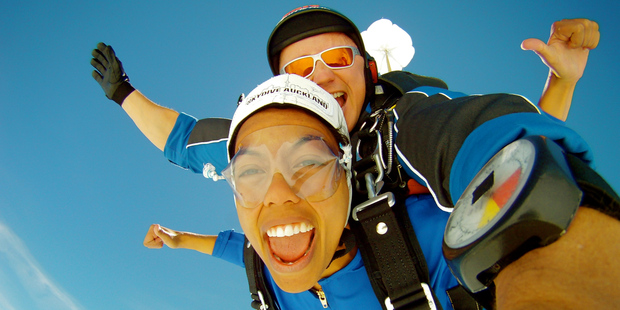 Once the adrenaline stops pumping at smaller-scale thrill-rides, it may be time to offer your teenagers the chance to try adventure in the air, rather than letting them find their own ways to get the adrenaline pumping back on the ground in fast cars or at late-night parties. By all accounts, it will be character building as well as a lot of fun. If you're brave, you can always join them.
Sky diving Tandem
There's no age limit for skydiving and some people have gone with children as young as two years old; however Sky Dive Auckland recommends children be at least six. "Families do it together with their young children - it's more common than you might think," says Sky Dive Auckland's Lisa Chambers. "Children don't have the same sense of fear as adults and they are definitely less scared than their parents before a jump," says Chambers.
The starting point is a tandem skydive in one day and then working towards solo skydiving with more practical and theoretical study. "Most people assume they will be scared of the height up there, but it's not that much of an issue because you can't see the ground before you jump.
I've done 800 jumps no problem, but I won't stand on top of a ladder or near the edge of a cliff," says Chambers. "When you jump it feels like flying, there's never a dropping sensation."
Chambers says there are two moments that stick in people's mind most - in the door of the plane and the moment they open the parachute: "It doesn't feel like a roller-coaster ride, it's peaceful."
Skydiving costs from $295 at Sky Dive Auckland, 0800 92 16 500.
Helicopters
Teens thirteen-plus can take up learning to fly a helicopter starting with trial flights. At 16 they can learn to fly solo with the aim of a private pilot's licence from the age of 17.
During trial flights, teens are given the chance to handle the controls and learn standard flight manoeuvres such as straight and level flight, climbing, descending and turns. They will also have the chance to try hovering the helicopter.
The trial flights can be used towards a private pilot's licence hour requirement, which is 50 hours of flight time as well as six theory exams to pass.
"In my nine years at Ardmore Helicopters, I haven't known anyone not to enjoy a trial flight," says senior pilot Rachael Butler. "Helicopters are addictive and the flights leave everyone on a high. "
Trial flights at Ardmore Helicopters cost from $330 for a half hour flight, 0508-CHOPPER (09 298 1899).
Gliding
"Children as young as 12 can be taught gliding, but only once they can reach the pedals with their feet and can see over the dash," says Auckland Gliding Club's flying instructor David Hirst, who started gliding nine years ago after his wife bought him a day's tuition.
He says gliding is much cheaper than other flight options because a glider costs less to run and the club's overheads are low because most instructors are volunteers. A glider can cost as little as $50 a day to use. "On a good day some members fly as far as Taumaranui and back, always flying over areas with landing options."
There's also a youth glide movement tailored for young people with events such as weekends away with gliders.
Air training course squadrons also use gliding as part of their courses. "It's great taking the nervous kids up for a lesson," says Hirst. "Their grins usually take hours to disappear afterwards."
Find the national organisation at gliding.co.nz where you'll find a club in your area. Club membership is around $300-$600 per year and children under 18 are charged half price for lessons, around $15-$25. The Auckland Gliding Club can be contacted on 0276 942 942.
Light Aircraft
If you want to learn to fly with the best, the Auckland Aero Club is a good place to start with past students, staff or members including Sir Keith Park, Sir Kenneth Hayr and Jean Batten since it was founded in 1928.
They've trained more airline pilots than any other training facility in the country and a list of recent graduates smiling in photographs on their website shows their training still works.
At 16, people are able to learn to fly, with parental consent. There's the option of trial flights or more intensive lessons and flight packages.
There's also the ATTTO Aviation Gateway programme, run for selected Year 12 and 13 students who spend half a day each week with the club.
Auckland Aero Club's introductory flights are $179 with a Fly Your Own Scenic package at $359, 09 299 8590.
Tree Adventures
Tree Adventures is a treetops ropes course in the beautiful Woodhill Forest. Just in time for school holidays comes the new smart belay system called clic-it, which safeguards against people disconnecting from the safety system by mistake.
"We've installed the system for added customer safety and it just helps with everyone's overall enjoyment," says director of Trees Adventures, Jimmy Moore, who says kids come for an hour and a half to three hours to try out the courses. Many of the more standard after-school classes available for children have every element thought-out beforehand, but ropes courses allow the child to make the decisions - which shortcut to take, being responsible for themselves and taking care of their gear.
Prices start at $16 and booking is essential, call 0800 TARZAN (827 926) treeadventures.co.nz.
Rocket Ropes
Combine fun for younger children at Butterfly Creek with a rocket ropes course next door for your teenagers. There's a Croc Course on high ropes over two levels with 23 different activities including flying foxes, barrel crawl, a spider's web, slip knots and finishing with the "ripper zipper".
You'll face over 29 intense aerial challenges to finish by leaping from a 12-metre platform onto a 120-metre ripper zipper flying fox line. If that's not enough aerial adventure, try the Giant Swing, which you can do alone or with a friend, after being winched to the top of the Rocket Course. Or try the Long Drop, which involves a great leap of faith.
Prices start at $25 for children under 15, rocketropes.co.nz.