Grant Allen has a Greek lesson from experts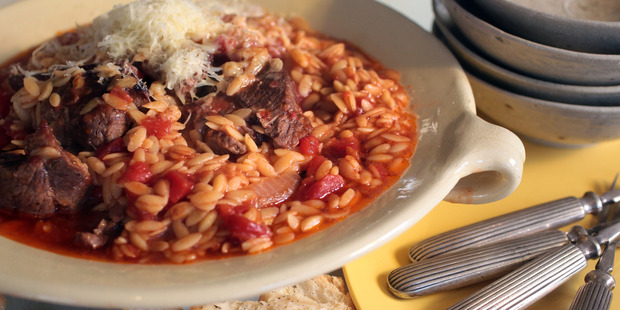 It's been a fortunate year for my friend Tania Psathas. After seven years on dialysis, she had a call from the hospital to get herself ready for a kidney transplant. One person's luck had run out but Tania's had come in.
Despite being one of the most vibrant and positive people I know, she had been through many black days in that seven years. Within a week of the operation she was up and running, freed from the machine that had dominated her days. Her new life had begun.
So it was with great pleasure that I went to the Wellington Greek community centre to cook for Tania's Big Fat Greek Celebration, which her friends had organised to honour her Greek heritage.
With only the most cliched knowledge of Greek cooking, I packed my copy of Favourite Greek Recipes, a little ringbound compilation put together for a fundraiser in 1984.
Inspiration enough, I thought, until I meet Tania the day before the event. Anything held at the centre automatically involves the whole Greek community and so Tania would be under the eye of her extended family.
It had to be properly Greek, it had to be abundant: the worst crimes would be to not serve "proper food" or to run out.
This was going to be more-than-a-one-man mission so, thankfully, I had my friend Sam Mannering to help. We scratched our foodie heads, dragged up everything we knew about Greek food, read the recipe book cover to cover, got some recipes from Tania and went shopping.
Amused faces and curious questions accompanied our cooking efforts in the centre kitchen. We were two imported Auckland boys instead of the usual Greek mamas, wading around in a sea of ingredients.
We got away with it, to much appreciation and disbelief that there was not a drop of Greek blood flowing through our veins.
I learned that Greek food is simple and reasonably quick to cook (it took us only four hours in the kitchen to feed 120 ravenous people).
I also learned that in this community, pita bread is a no-no, that canned dolmades can be dressed with lemon juice to make them taste home made and that mutton reigns supreme for slow-cooked dishes.
Best lesson of all: Greeks know how to eat, drink and be merry.


Recipes
• Sam's aegean lamb
• Marinated olives and tomato feta dip
• Fried fish with rosemary
• Spanakopita
• Theo's tiropitta (cheese pie)