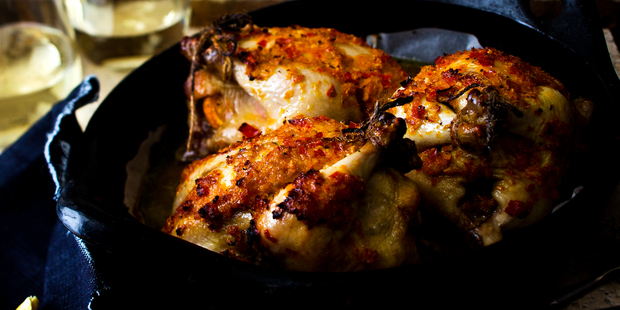 Serves 4
• 2 shallots, peeled and chopped
• 3 cloves garlic, crushed
• 2 red chillies, chopped
• ½ tsp turmeric
• 2 Tbsp ginger, grated
• 1 Tbsp lime zest
• 1 Tbsp oil
• 2 oranges, zest and juice
• 4 poussin or 1 organic chicken
• Salt and pepper


1. Preheat the oven to 180C.
2. Place the shallots, garlic, chillies, turmeric, ginger, lime, oil and orange zest in a blender, and pulse until you have a chunky paste. Heat a small frying pan and fry the paste for 2 or 3 minutes until fragrant. Cool.
3. Wash and dry the poussin inside and out, then place them on a sheet of baking paper in an oven dish. Smother the paste all over the birds and season them with salt and pepper. Pour the orange juice into the dish. Spray with a little extra oil, and cover tightly with tin foil.
4. Place in the hot oven and cook for 25 minutes, then remove the tinfoil and cook for a further 20 minutes, or until the juices run clear.
5. Allow to rest for 10 minutes before serving.
- VIVA