Long-time Hollywood director Chris Columbus wants his latest success story to stay on the page — for now, anyway, writes Stephen Jewell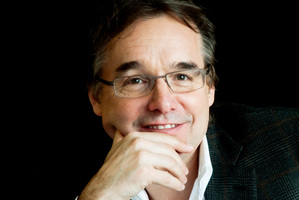 Most aspiring writers can only dream of having a mentor like J.K. Rowling. But as the director of the first two Harry Potter films, Chris Columbus was perfectly placed to ask the author of the phenomenally popular children's series for advice when he embarked on his first novel for young adults. Co-written by Ned Vezzini, House of Secrets is the Pennsylvania-born 54-year-old's first foray into prose fiction after a four-decade long cinematic career which, along with Harry Potter and the Philosopher's Stone and Harry Potter and the Chamber of Secrets, has also included hit films Home Alone, Bicentennial Man, and, more recently, The Help.
"When I had a rough manuscript of the book, I thought who better to send a copy to than J.K. Rowling," he recalls. "So I sent her a copy of the book and she came back and gave me some notes like, 'You've got to slow the pace down a little bit and concentrate on character work'. So Ned and I took that to heart and went back and did a rewrite. Then a little while later, an email came from Jo with a quote, 'This is what I'd like to say about the book on the jacket.' There it was - it was a great day."
Described by Rowling as "a breakneck, jam-packed, roller-coaster of an adventure,"
House of Secrets centres around the young Walker children, who are propelled on a wild journey into a fantastical otherworld after an encounter with a treacherous witch when their family relocates to the mysterious Kristoff House in San Francisco.
Although it reprises some familiar themes, it's an old-fashioned romp involving ruthless pirates, a blundering giant and deadly warriors, and is as reminiscent of classic children's stories like Peter Pan and The Chronicles of Narnia as it is of a certain boy wizard. And having penned the screenplays for first Gremlins and then The Goonies in the early 1980s, Columbus boasted plenty of experience in conjuring up tales about close-knit groups of youths long before J.K. Rowling ever sat down to write the first Harry Potter opus.
"Because of the quote and the fact that it's a fantasy novel, people have compared it to Harry Potter, but what it really brings to mind to me is Young Sherlock Holmes," says Columbus, referring to the film about the teenage incarnation of Arthur Conan Doyle's ubiquitous detective, which he wrote for director Barry Levinson in 1985. "It was not that successful, but personally it's one of my favourite films that I've done. It deals with two boys and a girl. The two boys are at boarding school and they go off on this fantastic adventure in England. To my mind, it's another cousin of Harry Potter and it was released a good 12/13 years before Potter. So I've always had a connection with this type of material. I just love that kind of world and I go back to it every now and then."
In fact, Columbus believes House of Secrets is a natural successor to The Goonies. "Over the years, kids have come up to me saying, 'When are you going to do a sequel to The Goonies?', but I've never really had the opportunity or come up with the perfect idea for it," he says. "But I feel that this particular adventure thematically connects to the heart of what makes The Goonies so relatable to kids, which is this sense of empowerment by fighting your fears, becoming a hero and overcoming your weaknesses. That was a big part of The Goonies and it's the same with House of Secrets.
"There's also the dialogue - as with The Goonies, we strived for real honest, sarcastic, funny dialogue between the kids. The siblings in House of Secrets also have that quality to how they talk, which is partly because I wrote them both. But it's also because I've lived through 20 years of raising my own children and listening to their fights, arguments and all their intimate conversations."
However, Columbus admits that he learnt some valuable lessons from his time spent bringing Rowling's much-loved creation to the big screen. "It basically taught me about good storytelling, whether it's in a cinematic form or a book," he says. "But that's also something that I got from people like Ray Bradbury, and Michael Crichton, who was very inspirational for this book because I remember reading a lot of his early books and a lot of them would end on cliffhangers. That was an interesting way for us to end each chapter, particularly when your readers are around the age of 10 or 11 years old, as we want to instill a love of reading in these kids. By giving them something to look forward to, particularly the next chapter, it makes it exciting. I thought that was an interesting way to get kids to not be able to put this book down."
Recruited by Warner Bros. to helm their adaptation of Harry Potter's inaugural outing in 2001, Columbus was instrumental in the casting of Daniel Radcliffe in the coveted lead role, and of Emma Watson and Rupert Grint as his faithful sidekicks, Hermione Granger and Ron Weasley. However, after returning for 2002's Harry Potter and the Chamber of Secrets, he elected to take a less hands-on role on 2004's Harry Potter and the Prisoner of Azkaban, passing on the director's chair to Alfonso Cuaron.
"I initially got into the Potter films thinking I was going to do all seven, and then I realised that there's not a human being on the planet who could do all seven because it's a tremendous amount of physical and mental work," he says. "It was sometimes 16 to 18-hour days, and that leaves you six hours to sleep. With each of those films, I had 160 days to shoot them, so after the second one I said, 'I'm going to pull back and produce because then I can work eight hours a day and see my family.' The first two films were really enough for me and it was important for me to then step back."
However, he was left with conflicting emotions when the series wrapped with the two-part movie of the seventh and final instalment, Harry Potter and the Deathly Hallows, in 2011.
"I was kind of melancholy as it was very moving, especially watching that last film," he says. "But looking at the body of the films, it's something that I'm very proud of. I'm never been one for patting myself on the back and saying, 'Good job', as I prefer to just move on. But in this situation, when the films ended I thought that we had created a pretty strong world there, we'd connected with the fans of the books and then created a whole legion of new fans for the movies."
Film has always been the first love for Columbus, who was a classmate of Eternal Sunshine of the Spotless Mind auteur Charlie Kaufman at New York University's film school in the 1970s. Indeed, House of Secrets was originally conceived as a film in 1999 before Columbus abandoned the screenplay after 90 pages.
"I realised that it would just be too expensive to make," he says. 'In fact, back then it would have been really cost-prohibitive as it would have cost about $300 million. So I put it in a drawer and went off to London to do Potter. When I came back every year or so, I'd pull it out, look at it and try to debate what I could do with it. A couple of years ago, I decided that it was too big to be a film but it might work as a novel."
Setting out to find a co-writer "so that I could still do my day job as a film-maker", Columbus eventually settled on seasoned young adult author Ned Vizzini, whose second novel It's Kind of a Funny Story was turned into a film starring Emma Roberts and Zach Galifianakis in 2010.
"We met in Los Angeles and I gave him the first 90 pages and said, 'See if you think there's anything there,"' he says.

"A week later, he sent me the first chapter, which he had written up, and it was pretty good. I liked it but I wanted to rewrite it, so I rewrote it and sent it back to him. We then bounced it back and forth until we had a chapter that we both liked, and we've been working that way ever since."
Columbus is in no hurry, however, to bring House of Secrets to the big screen. "It's important to just let the book be discovered by kids," he says.

"The process of discovering a book is much more relaxed and more personal than the discovery of a film. With a film, you've basically got one weekend. If it opens and it's successful, everybody's happy. But if it's not a success, then it's over.
"With a book, if you start off at a certain level - and we've been very successful so far, thankfully - that only enables word of mouth to spread. It's actually very old-fashioned, since if a kid reads a book and likes it, they're going to tell their friends to read it as well.
I want kids to read it on the beach during the summertime, to lose themselves in this world and picture these characters in their own heads without having the added distraction of a movie to worry about. Maybe after we finish the first three books we'll think about a film, but right now I'd like the books to live as books."
While House of Secrets has been touted as a trilogy, Columbus is unsure exactly how many volumes it will eventually encompass.
"It's not like the Potter situation, where Jo had written the last chapter before she'd written anything else," he says. "So she'd kept that last chapter under her bed or in a closet somewhere until she wrote the seventh book.
"For Ned and I, it's a matter of how long we can sustain the story without being repetitive, as well as how deep can we go with these characters and how can we make them grow? So it could be three books, but it could be longer, depending on not only the fan's appetite for them but also on how far we think we can take it. But I think we can take it pretty far. As long as we can grow and age with these characters, I think that we can take them to some interesting, fun places."
House of Secrets (HarperCollins $24.99) is out now.