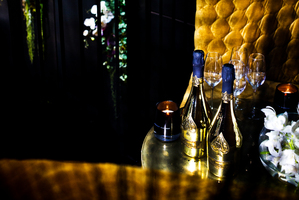 The international DJs have landed, the bar is stocked with exclusive Armand de Brignac champagne at $1400 a pop, and private booths of plush black velvet await ... it's the re-opening of Roxy in Imperial Lane and we're catching up with one of the creators on the eve of the shimmering party that launches this new venue on to Auckland's nightlife scene.
When Sam Sargent, director of Blak International, and Sam Ansley, social architect of Pack & Company began to throw around ideas earlier this year for the transformation of Roxy from restaurant to world-class luxury bar, they drew inspiration from some of the most enduringly cool hangouts in Los Angeles, New York and Las Vegas.
"I travelled to the US to research and meet the power players in the industry up there so that we could really understand what we would need to be doing to achieve the 'world class' standard. We've drawn ideas from the likes of Chateau Marmont [Los Angeles], Jay-Z's 40/40 club [New York], Hyde Nightclub [Las Vegas], and Death & Company [New York] and we've created a bar that fits with our scene here in New Zealand - it's not elitist, but it is exclusive," Sargent tells us.
"Our aim is a space that is special and fun, no drama, no pretentiousness, just fun."
With a sound and lighting system unrivalled in New Zealand, a line-up of top local and international DJs, bars divided between the two levels, a gorgeous outdoor area open to the night sky and private booths overlooking the dance floor, Roxy is set to attract the who's-who set, who like to sip and dance the night away.
• Roxy, Imperial Lane, City. Open now Monday-Saturday from 5pm-late. roxy.co.nz