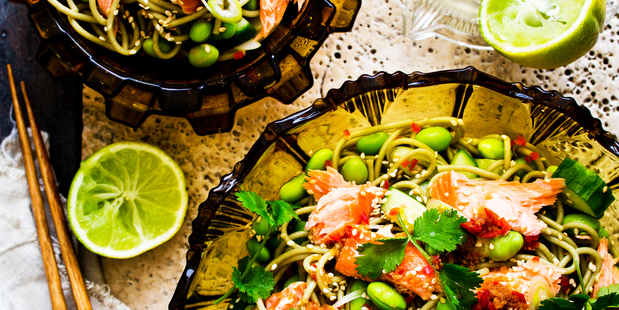 Serves 4
• 200g soba noodles, cooked according to the packet instructions
• 2 cups edamame beans
• 200g hot smoked salmon, flaked
• 2 spring onions, finely sliced
• ¼ cucumber, cut into chunks
• ¼ cup coriander leaves
• Toasted sesame seeds and extra coriander leaves, to garnish
Dressing
• 1 Tbsp grated ginger
• 1 tsp sesame oil
• ½ red chilli, cut finely
• 1 clove garlic, crushed
• 2 Tbsp salt-reduced soy sauce
• ¼ cup lime juice


1. To make the dressing, combine the ginger, oil, chilli, garlic, soy sauce and lime juice in a small bowl and mix well.
2. Place the noodles in a large bowl and toss through the dressing.
3. Add the edamame beans, salmon, spring onions, cucumber, and coriander. Mix gently to combine.
4. Serve on individual plates or on one large platter. Garnish with sesame seeds and coriander leaves.
Tip: Edamame beans can be found in the frozen foods aisle of the supermarket, and at Asian food stores.
- VIVA