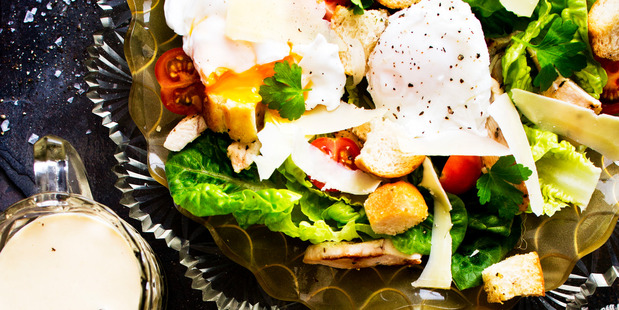 Serves 4
• 3 Tbsp oil
• 2 chicken breasts, cut into thin strips
• 1 tsp Tuscan herbs
• ½ baguette, cut into 2cm cubes
• 2 baby cos lettuces, leaves washed
• 10 cherry tomatoes, halved
• 4 poached eggs
• ¼ cup parsley leaves
• Shaved parmesan, to serve
Dressing
• 1 egg
• 1 clove garlic, crushed
• 1 tsp Dijon mustard
• 2 anchovies
• 150ml grapeseed oil
• juice of ½ lime
• ½ cup parmesan, grated
• Salt and pepper


1. Heat oven to 170C.
2. In a small bowl mix 1 Tbsp oil with the chicken and herbs. Heat a frying pan to a medium heat, fry the chicken for 4 or 5 minutes or until cooked. Set aside.
3. Mix the remaining oil with the baguette cubes and bake in the oven for 8-10 minutes until crisp and golden.
4. To make the dressing, put the egg in a blender. Add garlic, mustard and anchovies.
Slowly add oil while the blender is running.
5. Add lime juice and parmesan, and blitz until well combined. Season with salt and pepper.
6. Place the chicken, cos leaves and tomatoes into four bowls. Toss through the dressing. Place croutons, a poached egg, parsley and shaved parmesan on top. Serve immediately.
- VIVA