Address:
215 Dominion Rd, Mt Eden
Phone:
(09) 630 6474
Rating out of 10:
Food: 7, Service: 8, Value: 8, Ambience: 7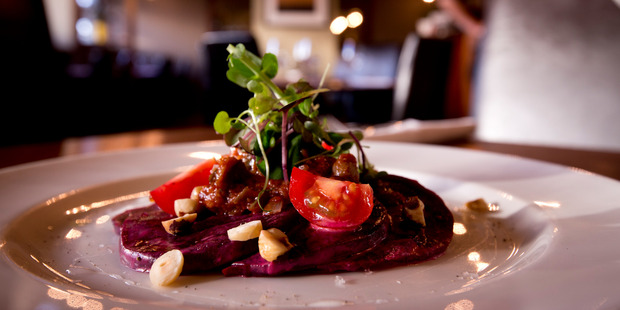 There are some dishes which turn up with greater frequency on menus than the ability to cook them properly suggests is wise. One is veal schnitzel, which too often turns up like a piece of dried cardboard with a soggy grease-soaked overcoat, or with crumbs resembling orange iron filings.
At Two Fifteen, it was offered as a special main course and was as it should be, crisply covered with an appealing golden mantle, yet with the meat tender, retaining its flavour.
The accompaniments were slightly less impressive, the mashed potatoes too solid and the mushroom sauce somewhat anaemic. But the vegetables, a homely selection, were full of taste and entirely appropriate for what was, in many ways, comfort food.
This sense of the comfortable rather than the exotic captured the nature of our evening, none the worse for that on a dreary Auckland night. The premises are pleasant in decor and layout, with enough space, yet tables close enough to provide a bistro warmth of atmosphere.
The staff were uniformly good.
I had started my meal with a second-choice dish. In keeping with the rigid medical rule that anything delicious is fatal, there have recently been warnings about the risks of processed meat. This made the fantastic-sounding charcuterie offering, a specialty of the house that includes air-dried smoked beef, house sausage, smoked pork, dried chorizo and landjager an apparent invitation to fall lifeless on to the table.
So I chose the much healthier option of the rich terrine of wild pork, venison and rabbit.
This proved my standout dish of the meal, a full-flavoured construction of meat dressed for appearance's sake, with corn bread, chutney and a puree that was too sweet for my taste but which did balance the meat.
Our other first course was a totally risk-free beetroot salad with a chickpea and eggplant compote and the added crunch of hazelnuts. This was a decent example of its type, raising only the question of whether this dish is not better with baby beets.
The mains list is not extensive but covers the bases. Had the schnitzel not been offered as a dish of the day, I would have opted for the veal chop with artichoke and peas, and the pork rillette accompaniment was tempting. But I was happy enough with my decision and our other main, the confit duck leg with spinach, kumara mash and apple compote was a satisfying assembly.
It would have been fitting to have completed our comfort food evening with the sticky date pudding, which had been recommended. It seemed a bit too rich but the choice of the fritoles instead was an act of folly. These little Italian doughnuts were positively leaden and even the vibrant flavour of the lemon curd and the icecream didn't mitigate the weight.
Our other choice of the lemon brulee was again fizzing with flavour, complemented by a little poached rhubarb and a honey crisp. Like the other diners, who filled the place to provide its bustling bistro feel, we left in a considerably more cheerful frame of mind than when we had arrived, for a comparatively modest outlay.


Our meal: $181.40 for two first courses, two mains, two desserts and four glasses of wine.
Our wine: A good list with a particularly decent selection by the glass.
Verdict: A comfortable, reassuring venue for a winter evening, perhaps tending to the more mature taste rather than the hip, although there was a good representation of the neighbourhood's younger set.