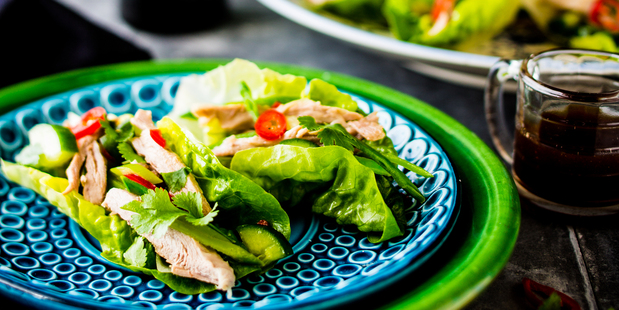 Serves 4
• ½ chinese roast duck, shredded
• 2 spring onions, finely chopped
• 1 red chilli, finely chopped
• 2 lebanese cucumbers, cut in chunks
• 1 cup coriander leaves
• 50g snap peas, blanched and sliced thinly
Dressing: Mix together
• 1 Tbsp mirin
• 1 Tbsp brown sugar
• 1 Tbsp hoisin sauce
• Juice of 1 lime
• To serve, 12 baby cos leaves


1. Into a large bowl place the duck, spring onions, chilli, cucumber, coriander and snap peas. Mix well.
2. Add the dressing and stir well.
3. Spread the cos leaves on a platter, and fill each one with the duck mixture. Add a coriander leaf to the top of each.